Looking for Adventure
Accepting limitations doesn't have to mean you can't live a fulfilled life.
Nat and her Bedlington Terrier/Whippet cross, Stan, are an adventurous team. Together, they love exploring the outdoors and being as active as possible. But over the past 6 years, Nat's autoimmune disease had caused her to find holding the dog lead increasingly difficult and Stan was beginning to pick up on her anxiety. Recently, Nat contacted us to explain how a browse on our website has lead to her and Stan regaining their enthusiasm for the Great Outdoors.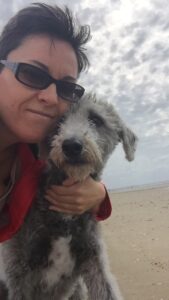 Nat, a social worker and NHS safeguarding lead, is 42 and loves walking and cycling. She has run over 50 ½ marathons and a full marathon in 2015. She and her wife have a narrow boat and a camper van. They try to spend as much time as they can, "looking for adventure anywhere and everywhere."
Finding Solutions
6 years ago, Nat developed psoriatic arthritis. She explains, "it particularly affects my hands and feet and I struggle with fatigue (none of which fits with my hobbies at all, which is very frustrating at times). I now have limited grip and my hands seize up." Nat's reduced grip affects her ability to hold objects such as pens and cutlery, do up buttons or cut up food. Looking for a solution to holding cutlery comfortably, Nat was shopping on our website for our Eazyhold straps. "I can't hold standard cutlery very well and make a right mess eating. I have to ask my wife to cut food up for me!" She has been pleased to find multiple uses for the Eazyhold straps. "They are great if I need to write anything, hold a drinks bottle, use cutlery etc. I haven't tried them with cutlery at a restaurant yet, but I will. I have used them when I bought a take out coffee at a coffee shop and I felt fine walking along with my drink."
Regaining a Passion
It's fantastic to regain independence around eating and drinking. But while shopping for the Eazyhold straps, Nat came across another of our products that has really sparked joy for her (and Stan!). One of the areas Nat has particularly struggled with is holding Stan's lead during walks. "I have been anxious about dropping his lead and putting him in danger. Stan gets anxious because I am and he has not really wanted to go for a walk. He is very loyal and protective of his family. He knows when I am in pain and tries his best to help."
While browsing our website, Nat then came across our No-Grip Dog Lead. "I didn't know they existed and decided to add one to the order." When Nat's order arrived, she was keen to test out the lead straight away.
Stan's new lead has made a huge difference. It takes away the need to 'hold' it and even if he shoots off after something, I don't have to grip the lead. It just stays on my hand and doesn't cause any pain and he is secure. This has meant that I am not anxious walking him and going on adventures any more. He knew I was anxious previously. He seemed to have stopped wanting to go anywhere, which is not like him or me. I feel like I have got a bit of myself back. I know there are limitations to what I can do sometimes, but to be able to plan adventures again and to go and have fun has made a huge difference physically and emotionally.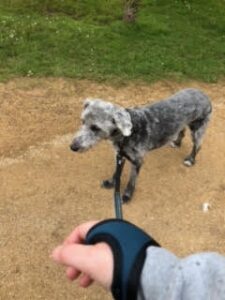 Positive Outlook
Nat's adventurous spirit and positive outlook on life have brought her so much joy. She encourages others to find ways to continue to do the things they enjoy, despite any limitations that disability may bring.
I would say try and find ways to do the things that you love and enjoy, find products and adaptions that let you get control back in your situation. Feeling disempowered is really damaging to our well-being. Accepting limitations doesn't have to mean you can't live a fulfilled life. I wasn't even looking for a dog-lead that I could hold myself, but it has made a huge difference to us as a family. We have been out and had fun again. I feel better about myself and this helps me manage my condition.
Johanna Smith