The last few months inflation has gone through the roof, and we're all feeling the pressure of higher prices and less disposable income. That's why we've been looking at some budget-friendly ways to have fun this summer.
Rethink your Entertainment
(And no, we don't mean cancel your Netflix subscription!)
It's easy to feel like the best way to have fun with friends is to head out to a new local hotspot… but evenings out quickly add up.
Why not take turns to entertain at home? Each person or family can take a turn at hosting – or you can all chip in and take charge of different elements: one person does main, another dessert, and another drinks! A great way to eat together without blowing the budget! Our Kitchen packs combine all our favourite kitchen gadgets to make cooking more accessible!
Our team have had lots of fun with family and friends this summer – with picnics in the park and BBQs in the garden.
You can find inspiration for things to do with friends everywhere! A recent TikTok trend had a picnic with a colour theme – each member of the group had to bring items that were their assigned colour… red, blue, you get the gist! The result was a weird, but colourful, picnic!
Head Outside
It's no secret that the UK doesn't exactly get wall-to-wall sunshine… but we get at least 1 solid week a year – so make the most of it! You can do lots for free outside – with some optional paid activities you can mix in!
Head to your local park – You probably have a park, or nice green space, within walking distance. Take some snacks & sun-cream, and enjoy a day out in the fresh air.
Beach day! – If you live anywhere near the coast, a day out at the beach should only cost you in transport. Take a picnic with you, and a bucket and spade… ice cream is optional!
Hit the water – A bit of care and supervision might be needed for this one, but if you live near a beautiful water space it might be time to check it out! Rob had a great time kayaking with his son last year with his Kayak adaptations and General Purpose aid, and you can usually hire kayaks fairly cheaply (or even better, borrow one!).
Go for a bike ride! – Biking is a great, cheap, way to get around – especially with rising fuel costs! It's also great fun, and can be done solo or with the family! Our gripping aids are often used to help grip bikes or handbikes. *Caution* Please note that the gripping aids do not have a quick release system so use is undertaken at your own risk.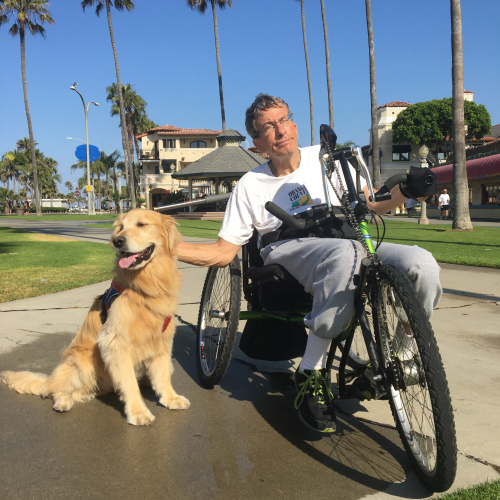 We have lots of products designed to help while you're out and about. Filter on our website by activity and disability!
…Or Hide From The Rain!
We can pretty much guarantee some rain at any time of the year in the UK… and even if you live somewhere without much rain, you might need a break from the sunshine from time to time!
Movie Day – This is where that Netflix subscription comes in (or Disney+, Sky, whatever you have access to!).
Baking together – Rob had a great (and only mildly disastrous) day baking with his youngest (the help of our NEW baking pack). The only cost is the ingredients, and you (usually) get cake at the end… win-win! You could even challenge yourselves to make the best baked goods under a certain budget – e.g. "best £4 brownie"!
Or make it a competition! – There are no losers in a baking competition… you just get more cake! Judge each other's creations and see who gets the overall best score – winner gets out of the washing up. Make the loss a bit lighter with the help of our wash brush.
Games – We all love a good game at Christmas, so let's bring some of that fun into the summer too. These card holders allow you to hold up to 10 playing cards – who's up for UNO?
Well, we hope you like some of our ideas for enjoying summer on a budget. Why not share your ideas? Tag us on Facebook, Instagram or TikTok!