Michelle Stilwell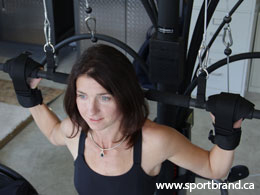 Double Paralympic Champion in T52 Wheelchair Racing at 100m and 200m (Beijing), Michelle is a triple world record holder and a key member of Canada's Paralympic Team in London.
Michelle uses General Purpose Aids in the gym and Looped Exercise Aids to train on her hand-bike.
"Could not have enjoyed the ride without Active Hands sending me some cool gloves for strapping."
Liz Johnson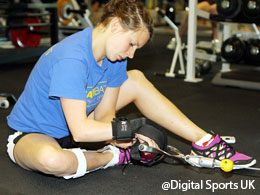 Liz is a Team GB swimmer and a Paralympic Gold Medallist in Category 6 100m Breaststroke (Beijing). She also played a key part in the London Opening Ceremony, reciting the Athlete's Oath. Active Hands aids help her overcome limitations caused by Cerebral Palsy.
"Using my Active Hand enables me to complete my land work without the limitations of grip or wrist strength and maximise the benefits that I can then transfer to the pool. It also removes any fear or doubt that I have about dropping my weights."
Mandip Sehmi

Like most members of Team GB's Wheelchair Rugby Squad, Mandip uses Active Hands General Purpose Gripping Aids to train. With our aids a C6 complete spinal injury has not stopped him achieving European Championship honours and Paralympic success.
"I have been using Active Hands now for over ten years and I can honestly say it would be extremely difficult to train without them. Such a simple but effective design, I use the grips while doing strength work in the gym, an essential part of my training."