This week has been marked in our family's calendar for quite some time. We've been counting down the days and dry cleaning our smartest outfits. Finally, on Wednesday, it was time for Rob, his wife Jo and their 7 year old son Jacob, to head to London in preparation for Rob's MBE investiture.
Awarded to Rob as part of the Queen's New Year's Honours list, Rob received his MBE for services to International trade and to the disabled.
Thursday morning was an early start in order to leave plenty of time to ensure we looked our smartest (and to enjoy a big 'hotel breakfast'… Jacob's priority!) and, after a last-minute Google of 'how to tie a Windsor knot', we were ready to set off.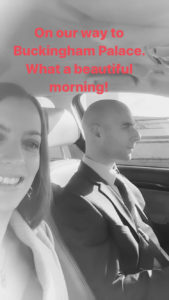 On arrival at the Palace, we were greeted by a team of police officers who gave a full search of the car before we were permitted to drive through the gates and into the grounds. The sun was shining and the Palace looked beautiful. Greeted by our own personal member of staff, to assist Rob to the lifts, we headed inside. Needing to use the lifts turned out to be quite an 'added bonus' as it resulted in a tour of rooms that not many others get to see…stunning ballrooms and drawing rooms….pianos that "Elton loves to play"; rooms filled with artwork and artefacts from all over the world and even a quick trip for Jacob up a staircase normally reserved solely for Her Majesty! A truly memorable experience in itself.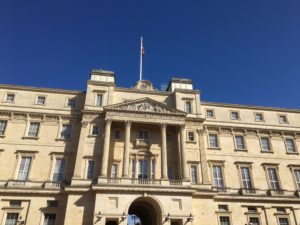 Jo and Jacob left Rob with the other recipients for a briefing about the proceedings and headed into the ceremonial ballroom. With an orchestra playing, we watched as five Yeomen marched in, followed by the four Gentleman Ushers and a series of other officials. The ceremony was held by The Prince of Wales, who took his place to the sounds of the National Anthem. It was so inspiring to watch people receive a range of awards for some incredible contributions. And then, after a long wait, it was Rob's turn. Watching him receive his medal and, of course, take the opportunity to explain our wonderful gripping aids to Prince Charles, was incredibly emotional and exciting. An ideal opportunity to reflect on how Rob's original idea for an aid to help him grip weights, shared with his mum all those years ago, has grown into our global business – a business which helps paralympians, soldiers, children, those injured and those born with disabilities, those who want to work out and those who want to be independent in their personal care…so many lives changed by the right gripping aid. It was such a proud moment!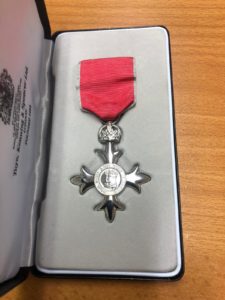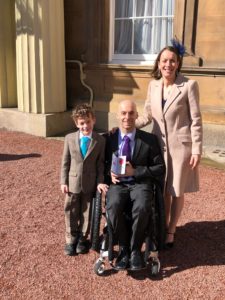 And then suddenly, it was all over. Time to go home and get back to work. Rob is back in the office, working as hard as ever. Except now he has this shiny medal on his desk to remind him of an amazing day and to keep us all on our toes, now he has letters after his name!
Jo Smith