You can connect this piece of Tubular Frame Clamp to the tri-plate on the Soloc Connect or Uno belts. You can use it to fit these belts to a wheelchair frame that does not have pre-cut holes in it.
The kit comes with a strip of rubber to protect the frame and a metal piece that you can slot into the tri-plate as shown: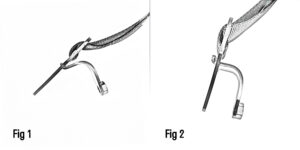 How Do I Attach My Tubular Frame Clamp?
Wrap the rubber around the frame and place the tubular clamp over the frame in position.

Add a washer to the bolt.

Insert the bolt through the hole in the tri-plate and into the nut.

Tighten until there is no slippage or rotation.
The set contains 2 fixings for the Connect belt. Please note that these fixings will not work with the FlexiFix arms that are on one side of the Soloc Uno and both sides of the Soloc Freedom belt.