When you have reduced hand function kettles can be heavy to lift or pour from without burning yourself! This easy-pour kettle pours when you tip it by pushing the handle – no need for a grip!
Features:
Pivot to pour – no need to lift the kettle up – just tip the jug to pour.
Safe and sturdy base – the non-slip feel will ensure that the base will stay where you put it.
Easy-touch lid – it only requires a light touch to open and close.
Tapered Spout – the shape of the spout ensures a narrow stream of water, targeted at the same spot every time.
Detachable jug – the main body of the kettle can be removed to fill or, if it is too heavy, filled from a jug or bottle.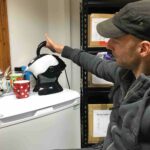 The easy-pour kettle holds 1.5ltrs – enough to make tea for the whole household or office (and yes, Rob is now on tea duty for the next year)!
Please note that this comes with a UK 3-pin plug or a European plug. You can purchase adapters for this plug from other retailers but you use these at your own risk. If you are unsure which plug is used in your country then this article on plug types may help"