After years of build up, planning and training, sandwiched in between delays and last minute alterations; the Tokyo Paralympic Games finally went ahead, doing so in spectacular fashion. After everything the organisers, athletes, and everyone involved had to go through just to get this mammoth event to go ahead at all; for it to be such a resounding success was nothing short of a miracle. These Games really were the ultimate display of overcoming adversity.
During the two weeks of competition, millions of people around the world watched on as records were broken, history was made, and new national heroes were born. Around 4,400 competitors, from over 160 nations, competed in 539 medal events over 22 sports. In a Paralympics which gave us so many thrilling highlights, it would be impossible to pick out a universally accepted Top 10 Moments, so below is my own personal list, see how many you agree with…
10. The Opening and Closing Ceremonies
Bookending the Games were of course the opening and closing ceremonies; spectacles that could easily have felt eerily hollow given the lack of spectators. However, Tokyo knew how to put on a show, with clowns and acrobats joining the dozens of disabled musicians, dancers and performers that heralded the lighting of the Paralympic torch and the start of the Games. The parade of athletes was led out by a team made up of refugees, representing the more than 82 million people around the world who have been forced to flee war, persecution, and human rights abuses; 12 million of whom live with a disability.
The all-singing, all-dancing closing of the Games was equally impressive; with BMX biking, rollerskating, and a spectacular fireworks display on show, along with the parade of nations. With Japan's Emperor Naruhito officially opening the games, and Crown Prince Akishino in attendance for the close, it was clear that Tokyo, the first city to host the Paralympics twice, was determined that these Games be remembered for the right reasons.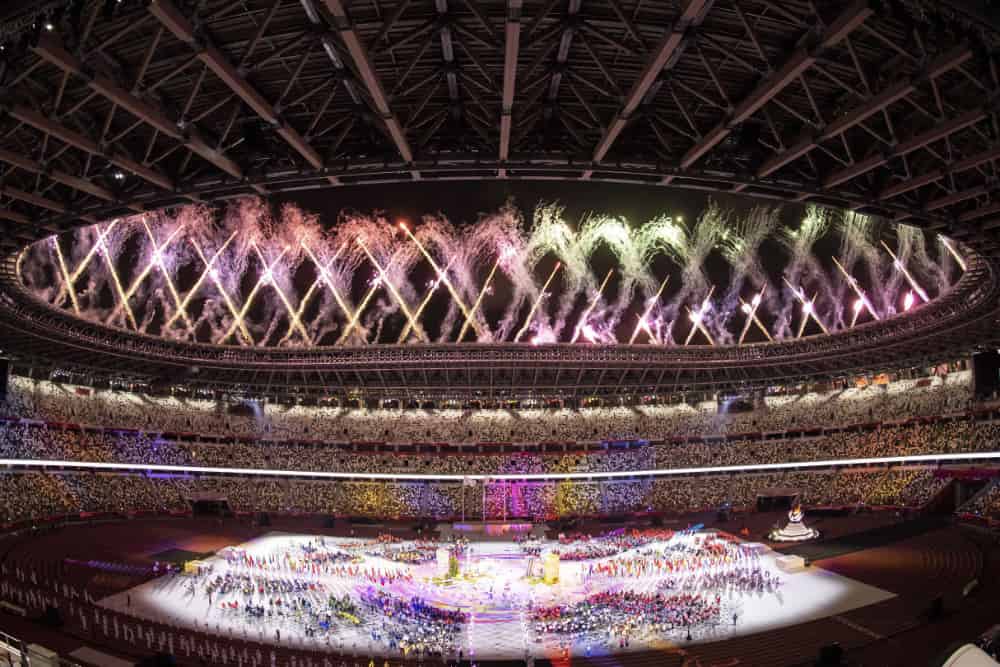 9. Tully Swims To Gold
Five years after injury forced her to pull out of competing at Rio, it seemed as though British swimmer Tully Kearney was set to endure more Paralympic heartache; missing out on gold in the S5 200m freestyle on the opening day, as China's Zhang Li pipped her to the post by 0.12 seconds. However, Tully bounced back from this instantly when, the following day, she not only won gold in the S5 100m freestyle, but in the process knocked off a full 2 seconds from her own world record!
An Active Hands ambassador, Tully, who was born with cerebral palsy and developed generalised dystonia, was told she would never be able to swim again after injuring her shoulder in the build up to Rio. But with the help and constant encouragement of her mum, she pushed through the pain, got back in the pool and after 5 years of absolute commitment, she admits "it was so worth it".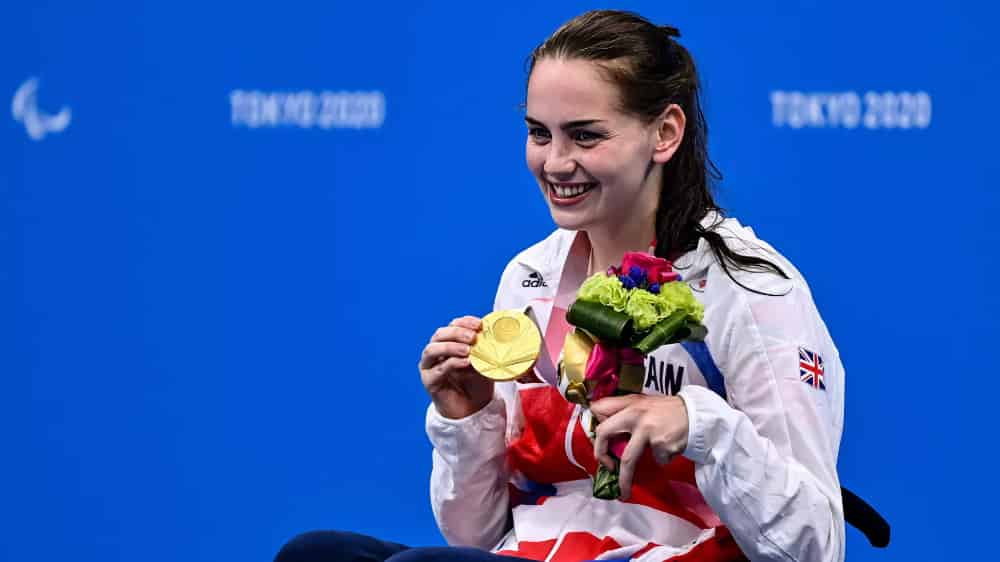 I was aiming for a world record in the 200 and unfortunately through the injuries I just didn't have the fitness to hold on. Today, I was absolutely determined that no-one was going to beat me. I felt rubbish but I just decided I was going to go out there and leave it all in the pool, and it worked.

Tully Kearney
8. Afghan Duo Escape Kabul To Compete
During the opening ceremony's parade of athletes, the Afghan flag was carried out by a Japanese volunteer, as it had earlier been announced that, due to the ongoing crisis, the country's two Paralympic athletes, Zakia Khudadadi and Hossain Rasouli, had been unable to get out of Kabul. What made this even more devastating was the fact that, two weeks previously, Khudadadi had posted a video plea for help, a plea that had seemingly gone unanswered. However, unbeknownst to everybody but the most senior figures, a global operation had begun in secret to evacuate the two athletes and bring them to Tokyo.
So when Zakia and Hossain arrived and were welcomed into the Olympic Village a few days after the Games had begun, with them came an overwhelming sense of relief and positivity for everyone there. Zakia, the first woman to represent Afghanistan at the Paralympics, competed in taekwondo; and Hossain, having missed the 100m sprint he had been training for, competed in the men's long jump final. This was about far more than competing for medals though; this was about nations coming together to help two athletes live the dream that they had trained so hard for.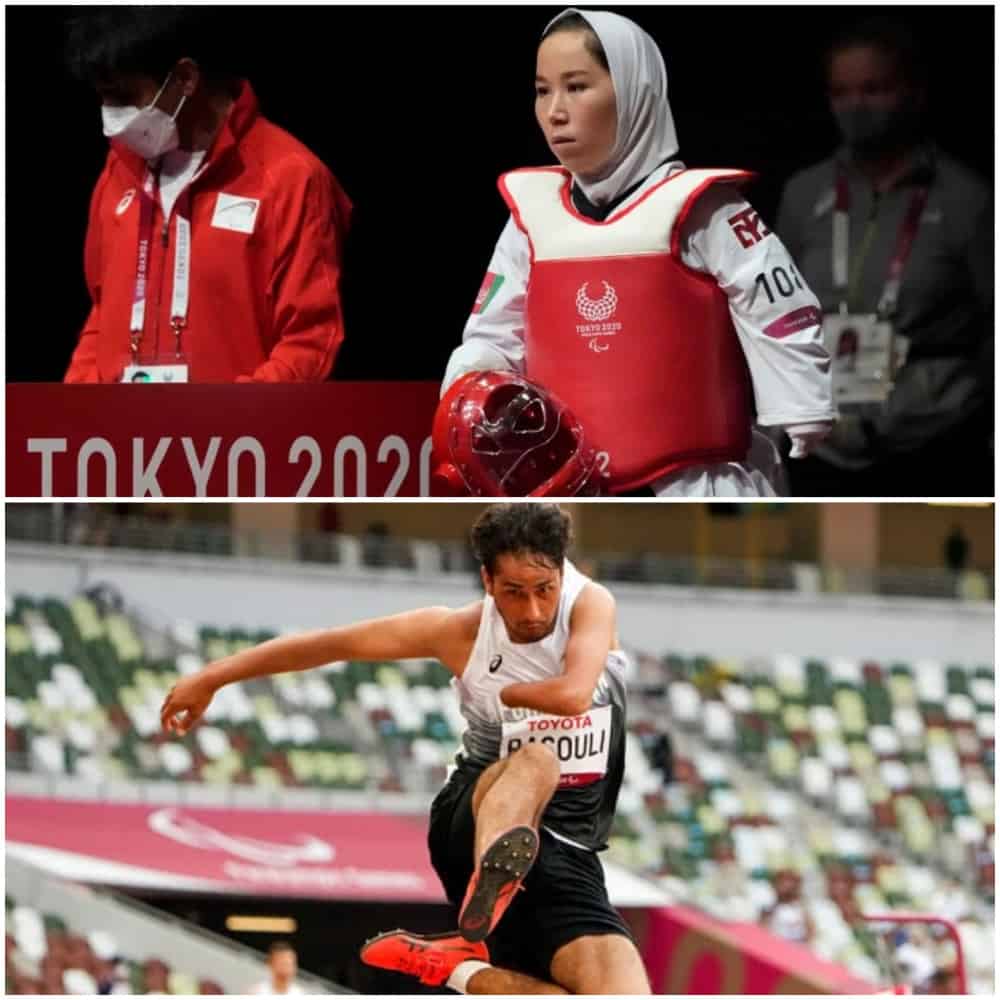 Sometimes you feel like crying, sometimes you feel like celebrating…once you've realised your dreams, it's difficult to express the emotions you are going through.

Hossain Rasouli
7. The Golden Couple
If Jason and Laura Kenny are British cycling's golden couple of the Olympics, then Neil and Lora Fachie are most definitely British cycling's golden couple of the Paralympics. After Neil won gold and Lora missed out in London, then Lora won gold and Neil missed out in Rio, the couple began to think it just wasn't meant to be for them to celebrate victories together.
However, on the final day of track cycling in the Izu Velodrome, less than an hour apart, both Neil and Lora were celebrating. First up Neil, competing in the men's B 1000m time trial, won gold, breaking his own world record in the process; then shortly after, his wife Lora, competing in the women's B 3000m individual pursuit, won gold, also breaking the world record. It was an incredible sight to behold and firmly cements this couple in Paralympic history!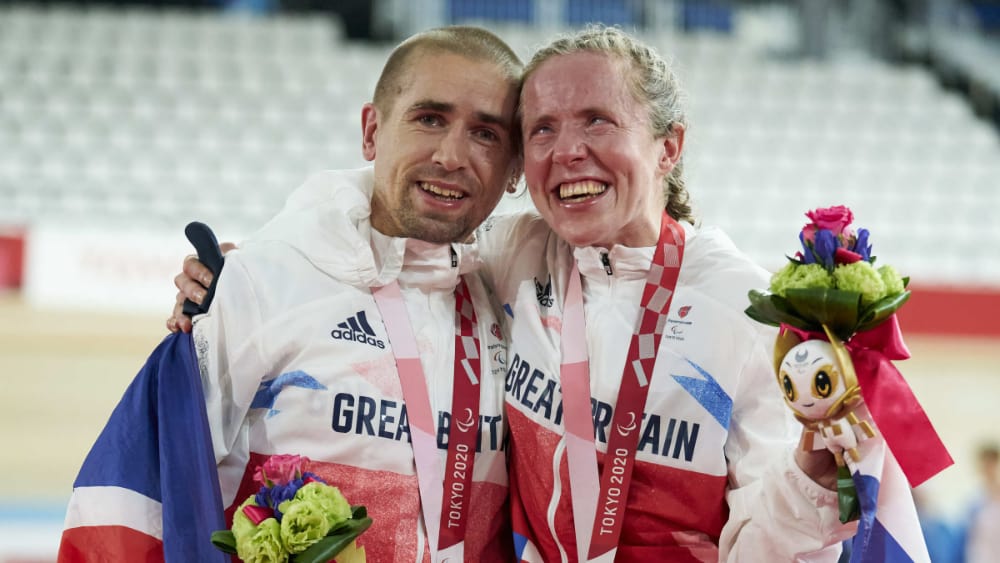 We were the first medal ride, we had to deliver, not just did we do it but…then to watch my wife go and win gold, it was just unreal. Wow, what a day. You never forget this.

Neil Fachie
6. A Paralympic Proposal
Keeping on this romantic tangent, we shift from cycling to running, where Cape Verde's Keula Nidreia Pereira Semedo, 32, had just finished 4th in the women's T11 200m qualifying heat. Her initial disappointment at narrowly missing out on the semi-final was short lived however, as, moments after crossing the finish line, her running guide and partner Manuel Antonio Vaz da Veiga got down on one knee, produced a ring and proposed to her in the middle of the track! A beaming Semedo said yes as her fellow athletes gathered round to offer their congratulations.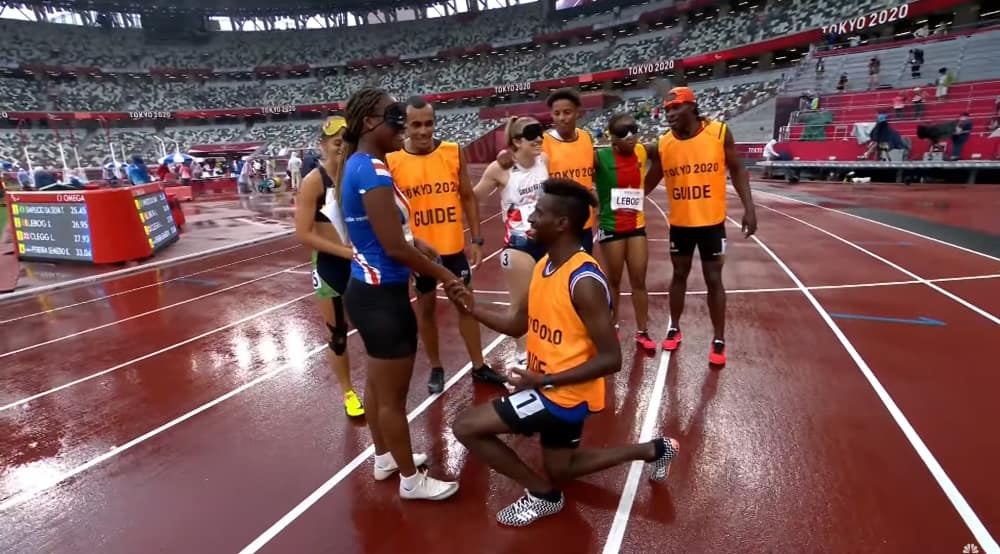 These were my first Paralympic Games and with my age and speed I was actually thinking about stopping afterwards," she said. "But now I have an additional motivation to carry on after the Games, always with him by my side.

Keula Nidreia
5. Steadman Finally Gets Her Gold
It has been a marathon journey to reach the Paralympic summit for triathlete Lauren Steadman; having missed out on medals in 2008 and 2012, and collecting silver in 2016 after a costly error in the swimming section of the race allowed America's Grace Norman to take the gold. The loss in Rio was particularly tough for Lauren, who took a step back from sport after struggling to overcome her anger and frustration.
However, after her coach emphatically told her she wasn't done yet, Lauren put her faith in him, refocused and got back to training. So when she crossed the finish line in Tokyo to claim the PTS5 triathlon gold in a time of 1:04:46, 41 seconds ahead of Grace Norman, the emotions were overwhelming.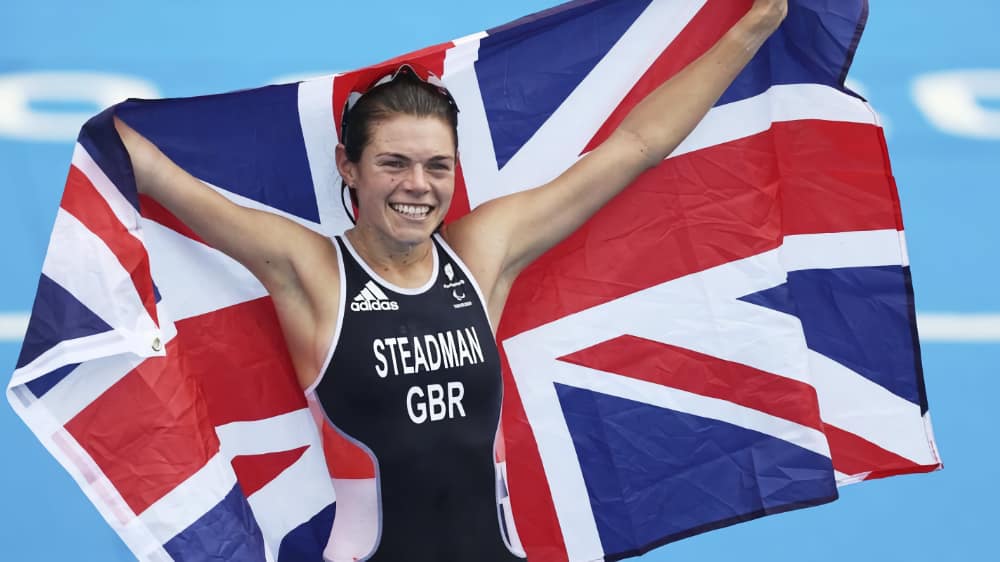 That's a massive redemption. I was devastated after Rio, I was really destroyed, I didn't go anywhere near my bike, my shoes or my swimsuit for seven months…I was determined to just enjoy this regardless of whether I got a medal. When it hurt, I thought 'this is what I built for'.

Lauren Steadman
4. The 100m Photo Finish
An incredible men's T64 100m final saw the front 4 athletes separated by only 300ths of a second! It took the judges nearly 5 minutes of scrutinising before awarding Germany's Felix Streng the gold, Costa Rica's Sherman Isadro Guity Guity the silver, and Britain's Jonnie Peacock sharing the bronze with Germany's Johannes Floors. To put this in perspective, the rulebook states that athletes can only share a finishing place when the gap between them is less than 1,000th of a second!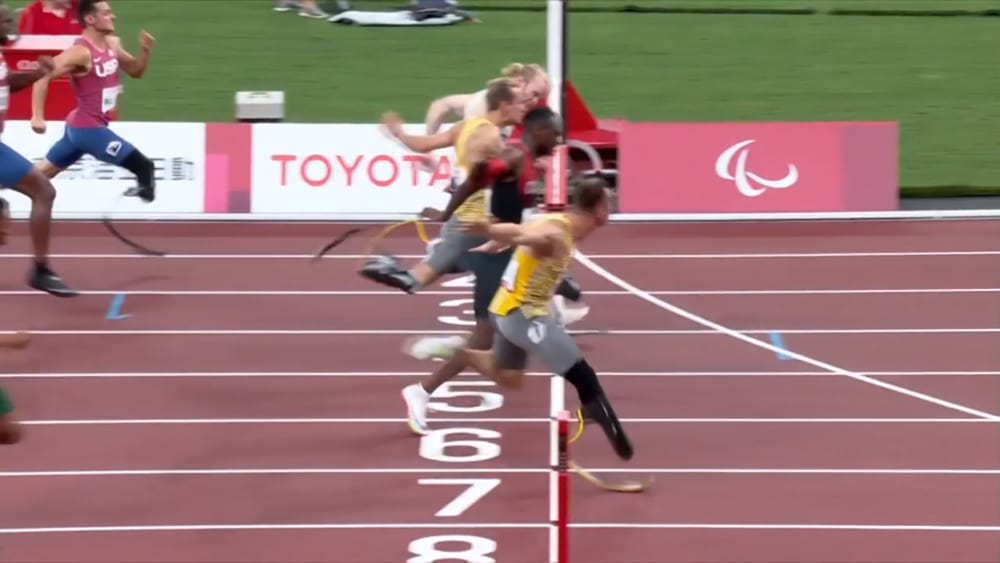 If that's not an advert for Paralympic sport in 11 seconds I don't know what is!

Jonnie Peacock
3. Sarah Storey Becomes Britain's Most Successful Paralympian
Cyclist Sarah arrived in Tokyo trailing swimmer Mike Kenny by two gold medals, but after a trio of triumphs (including breaking her own world record in the C5 3000m individual pursuit), the 43 year old left as Britain's most decorated Paralympian of all time, amassing an incredible 28 medal haul, 17 of which are gold!
Born without a functioning left hand, Dame Sarah began her gold medal collection as a swimmer before switching to cycling at Beijing 2008. She has now competed at 8 Paralympics over 29 years, starting with Barcelona 1992, winning medals at each one; a statistic so mind boggling I had to seek out a secondary source to make sure there hadn't been a typo! (Also, a shout out has to go to American swimmer Jessica Long, who just competed in her fifth Paralympics and now has a total of 16 gold medals!)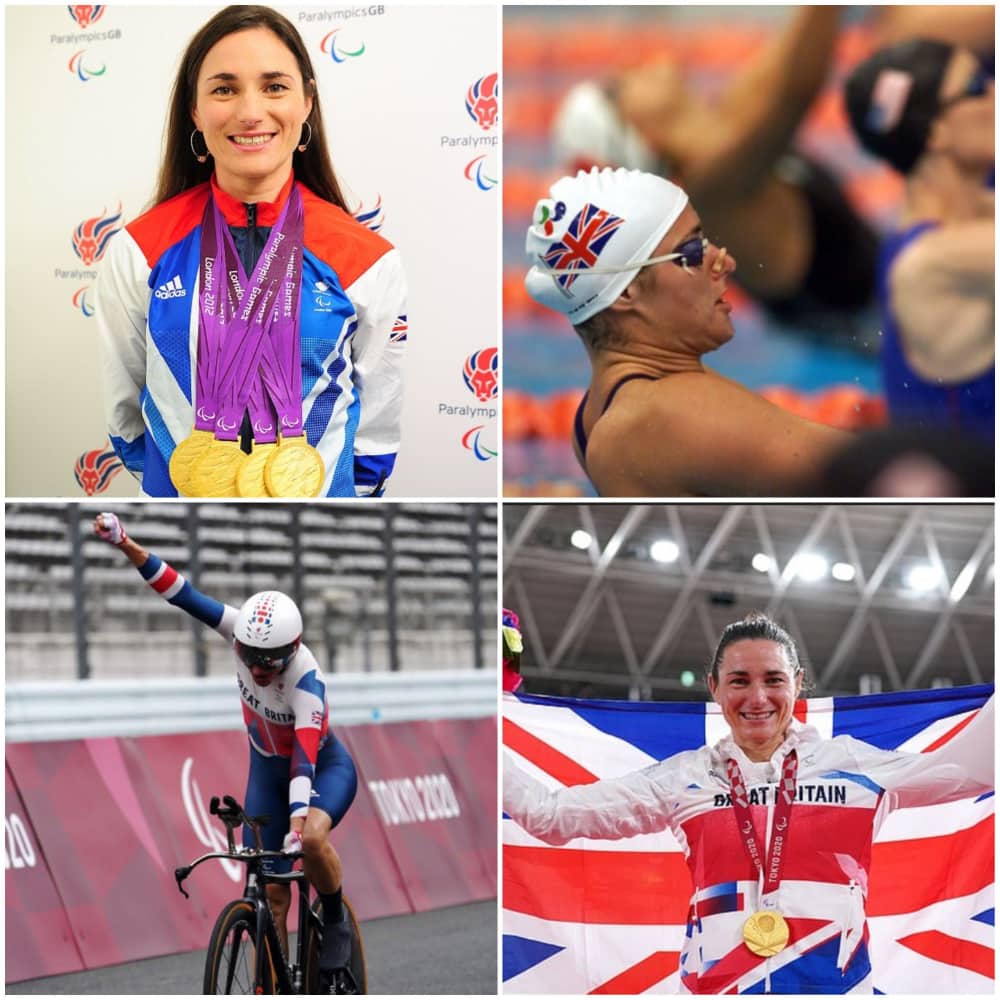 I just wanted to be a British athlete, I wanted to compete for my country for as long as I possibly could. I couldn't have imagined having eight Games, let alone winning medals at every Games, and 17 of those medals being gold. It's the dream I didn't have, coming true.

Dame Sarah Storey
2. GB Wheelchair Rugby's First Ever Medal
Having missed out on bronze in 2004 and 2008, and finished 5th in 2012 and 2016, Britain's quest to win a medal in wheelchair rugby finally paid off in style, as they took home the gold, stunning the USA 54-49 in a tense final. This was an especially sweet moment for the squad, who had been stripped of their funding for Tokyo by UK Sport, as they had lost to the USA every previous time they had played them in the Paralympics, including in a group game mere days before.
Kylie Grimes, who we had followed in a series of articles in the build up to the Games, made her own slice of history, becoming the first female to ever win gold in wheelchair rugby. The 11 man, 1 woman squad was made up of athletes from an array of disability backgrounds, including Stuart Robinson, a former RAF gunner who lost both his legs to an IED in Afghanistan, Jim Roberts, who lost his lower legs and several digits on his hands due to bacterial meningitis, and Jack Smith, who suffered a spinal injured during a game of rugby. The current European champions have now added Paralympic champions to their résumé, the first European nation to achieve this!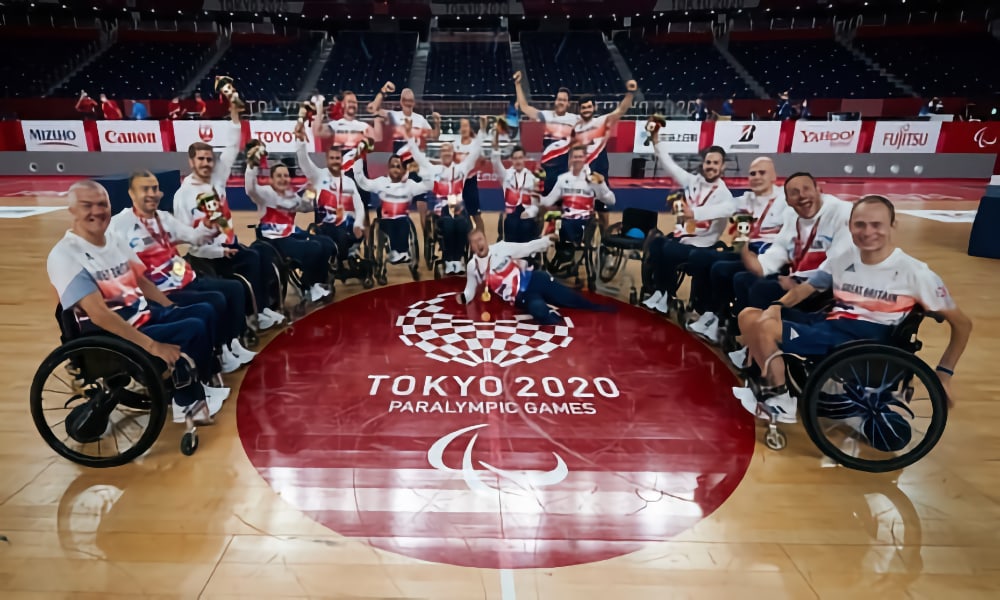 I'd love more women in my sport. Women can match the men. It's about tactics, skills, using the brain, using the top two inches when you need it under pressure. You know, women are good for certain things, too. There is a lot of calm within us. The men have their testosterone flying around everywhere, the big hits – but it isn't always about that. I kept telling the boys to believe, and really feel it as we have got this. If I can get more women involved as well then the more the merrier, I would be delighted.

Kylie Grimes
1. The Ultimate Display of Paralympic Spirit
Whether it be gold, silver or bronze, winning a medal at the Paralympics is a fantastic achievement. However, I would argue this final entry captures what the very essence of the Paralympics is and why it was created in the first place.
Australian cyclist Stuart Jones' Games were not going to plan, having suffered a slipped chain on the final straight of the T1-2 time trial and now finding himself in 9th place in the T1-2 road race. However, as he pushed up the final hill, he saw South African cyclist Toni Mould, who was competing in a different race and really struggling with the wet conditions. Instead of focusing on completing his own race, Jones slowed down so he was level with Mould and began spurring her on with words of encouragement. A reinvigorated Mould dug deep, and both athletes completed their respective races. If this ultimate display of sportsmanship and supportiveness in overcoming adversity isn't the absolute pinnacle of Paralympic ideology, then I don't know what is.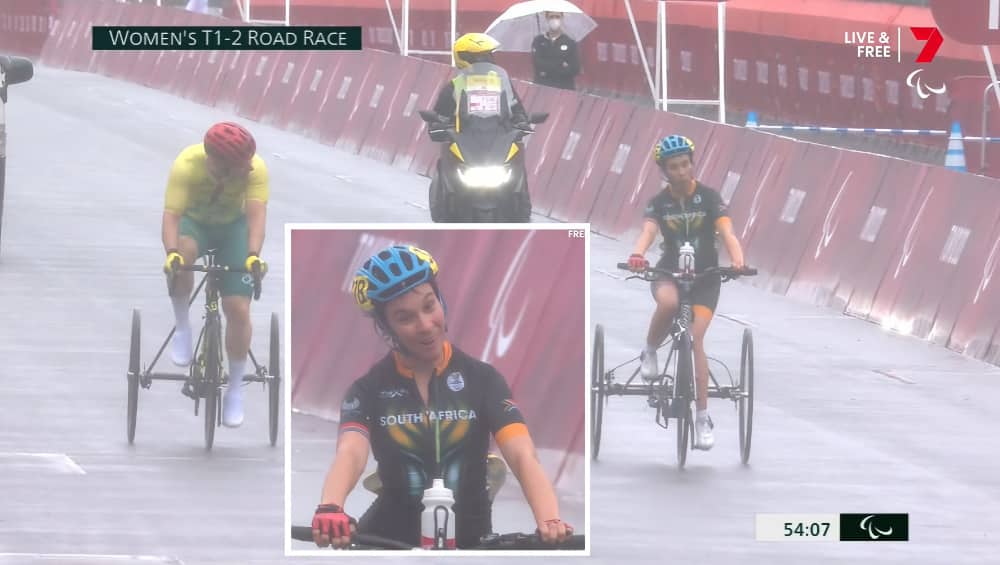 If I could encourage [Toni] up the hill and just make her struggle a little bit easier, hey, what's a place, if I come sixth, seventh, eighth? Because that's what these Paralympics are about.

Stuart Jones
So there we have it, my top 10 moments from the Tokyo 2020/1 Paralympic Games. With so many great moments to choose from it was tough to narrow it down to just 10; but with less than 3 years to go until Paris 2024, many of these will remain at the forefront of people's memories until then. A special mention has to go out to Channel 4's broadcasting of the event, hosting over 300 hours of round the clock coverage, featuring a stellar line up of presenters, 70% of whom had a disability themselves. Another hugely successful Games once again saw Team GB finish second in the table with a total of 124 medals (including 41 gold); with the future of Paralympic sport looking particularly bright right now.