Exercise is so important for all of us to maintain a healthy lifestyle. For many the best way to do this is to go to a gym.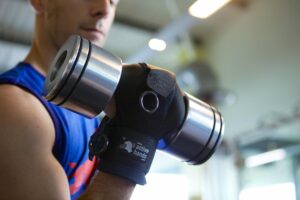 For those building strength after an injury or illness, gym time is essential to aid recovery. Active Hands can help those who need to rehabilitate after a Stroke, surgery, brain or spinal injury, or can help those with disabilities such as Cerebral Palsy, MS or MD, who are struggling to get a safe grip on equipment.
Active Hands manufacture a range of gripping solutions and equipment for use in the gym. They are suitable for those who are just starting out to those who are training at a Paralympic level. The gripping aids are made to be tough enough to withstand the hardest work out (for more information on uses for Athletes click here).
Active Hands gripping aids can give you access to a range of equipment. As well as purchasing the different aids separately we offer our different aids in a money-saving 'Gym Pack' or 'Gym Pack Deluxe'. These descriptions will help you select the best options for you:
General purpose aids are great for getting a firm grip on equipment such as:
Free weights
Most bars or gym machines
Rowing machines
Hand bike style gym machines
Limb Difference aids can be used for the same activities as the General Purpose aid but are designed with a double strap system, specifically for helping those with fingers or hand parts missing.
Looped aids are great for gym equipment where you are pulling and need to use both hands such as:
Lat pull down machines
Pull up type machines
Seated row weights machines
Rowing machines
D-Ring aids are designed to give you more freedom of movement on equipment such as:
Cable and pulley machines
Hook aids can be used on closed-ended bars and are great for:
Pull-ups
rowing machines
lat-pull down machines
some hand-bikes
Heavy duty grip wrap gives a layer of added comfort and padding whenever you need it, such as when using free-weights.
Thumb Protectors fit around the shaft of a free weight, giving a layer of neoprene padding between your thumb and the end of the weight.
"I currently own and use one of your active hands gloves.  The device has been a huge game changer for me in terms of health and fitness.  Overhead presses, bench presses, pull-ups, rowing – pretty much anything to do with barbells/dumbbells/bars/rings has gone fantastically well.  The forearm, arm and shoulder attached to the weak hand is now growing muscle which I and my wife quite like.  And as an added benefit, I can now feel a "squeeze" with that hand with the device on.  So it's a fantastic device."                                                     

Chris
To see how you could use our gripping aids in the gym take a look at this video of Rob demonstrating how he works out in a regular high street gym.
Michael Lewis suffered a blast injury in Afghanistan, he uses Active Hands in the gym and this is what he has to say about them:
"I was amazed that something so simple could be so effective. It gave me the ability to grip as well as having the confidence to hold a dumbbell above my head and even do pull ups when before my fingers would slip off the pull up bar."

Michael Lewis