If you have poor hand grip then phones can be a tricky business – we have some device that will help you to hold, use and charge your phone.
If you don't have a built in satnav in your car, chances are you are using your phone for directions. Or maybe you use your phone for music, or need it where you can see it to see who is calling? Phone holders often are difficult to attach to the windscreen and involve pressing buttons or wrestling against sprung systems to release phones – not great if you have reduced hand function! This one is much easier to use: the mount slots into your heater vent and the phone attaches magnetically to the mount. It comes with a thin metal plate/disk that either attaches to the back of your phone or inside your phone case. We stuck ours at the bottom of our phones, beneath the ungrip, which makes pressing the home button much easier!
Price: £11.95/ €13.95/ $11.95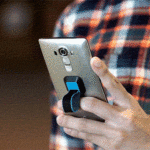 Ungrip is a smart, easy to use device that attaches to the back of any mobile, instantly cutting out the risk of dropping and damaging your phone and making it ideal for anyone with weakened grip. Simply slip your finger through the looped fabric and the phone is securely positioned in the palm of your hand, ready for use. The phone can also be twisted and manoeuvred in your hand, making it perfect for taking photos or videos!
Available in a variety of colours and styles, Ungrip is both a gripping aid and fashion accessory for your phone!
Prices from: £9.95/ €11.95/ $16.95

The Sixth Digit is a new product designed specifically for those with hand function problems to enable button and key pressing. Touch sensitive tips allow you to use this with your phone or tablet. With an adjustable ring, the Sixth Digit is worn on your little finger, hence the name. Light and unobtrusive, it can be left on your finger ready for use wherever you go.
Price: £19.95/ €27.95/ $29.95
This video shows the difference that a Sixth Digit makes to using a mobile phone.
Plugging in a phone charger when you have reduced hand function can be difficult. This set up makes it easy – the phone cable is so keen to connect! There is a small adapter that fits into your phone or iPad, which stays in there. The cable then connects once it is held near to the phone.
Price: £19.95/ €23.95/ $19.95
---