Miscellaneous Products by Others
Some products just won't fit into a category so we have collected them together here!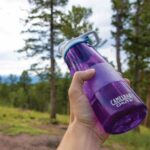 The non-abrasive grip tape is also made by Cat's Tongue and has the same texture as the phone/laptop grips. The tape is grippy without being scratchy or sticky so it won't pick up all the little bits that come from who-knows-where! This tape can be cut to shape with scissors so if you want a certain shape to go on your camera, round an awkward handle or under a dish then you can customise it as you wish. It will even survive the dishwasher!
Prices: £19.95 / €24.95 / $19.99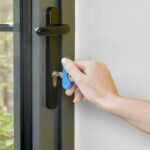 Keys can be tricky to turn due to the small size of their heads. These keywings can be added to the top of most keys (see shop entry) to make the keys easier to turn. They come in three different colours and are also available in a pack of 3. Why not put one on all of your keys?
Prices from: £4.95 / 6.95 € / $8.95
Doing your physiotherapy can get quite dull and the temptation to skip or cut short a session is high! This music glove makes your physio fun again. As the blobs come down the screen, press your finger and thumb together to play a note (think Guitar hero). The program tells how you are doing as you play and also gives you feedback on how your dexterity is improving over time. You can play for 15 mins or up to an hour and you can choose which fingers you wish to practise with. It's quite addictive!!
Price: £249.95 / 299.95 €/ $349.95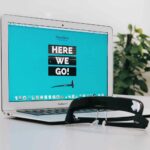 The GlassOuse (from the words 'glasses' and 'mouse' – clever right?) is a wearable mouse removing the need to hold and press a mouse. You just pop the device on like a pair of glasses and move your head to move the pointer. We stock a range of switches to suit your needs. There is a bite switch to click with your mouth, a puff switch to blow on, three options of press/touch or proximity switches – hopefully something for everyone's needs. It also connects to smart TVs, some tablets and phones, laptops and desktops (mac and PC).
GlassOuse price: £399.95 / 429.95 € / $499.95
Switches from:  £39.95 / 44.95 € / $49.95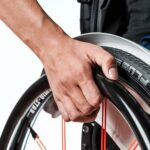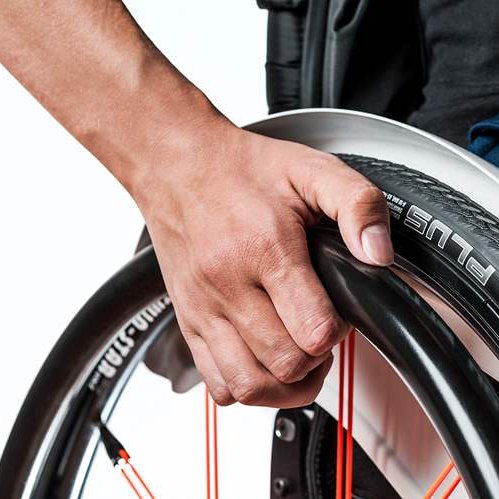 These push rims are designed especially for people with reduced hand function. There are three profiles available: Curve Tetra, Curve L Tetra and the Quadro. The profiles are shaped to give you maximum contact area with the rims to help you push and brake. The rims are covered in a high-grip substance.
Kyle got the Push Rims today and got them installed, he's so happy. He came to my gym for his workout with me, with a huge smile on his face. It made my day to see him so HAPPY!!!
Price: £165.00 / 189.95 € / $209.95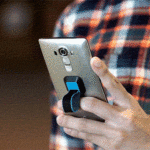 Ungrip is a smart, easy to use device that attaches to the back of any mobile, instantly cutting out the risk of dropping and damaging your phone and making it ideal for anyone with weakened grip. Simply slip your finger through the looped fabric and the phone is securely positioned in the palm of your hand, ready for use. The phone can also be twisted and manoeuvred in your hand, making it perfect for taking photos or videos!
Available in a variety of colours and styles, Ungrip is both a gripping aid and a fashion accessory for your phone!
Prices from: £9.95/ €11.95/ $16.95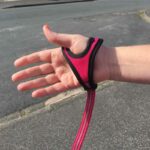 Keep a safe hold on your dog lead with this no-grip dog lead. The soft, neoprene handle of the lead slips over your thumb allowing you to hold the lead without a need for a strong grip.
The lead also has a reflective strip down it making you visible to traffic at night. Why not combine it with the MagLoc to make taking your pet out for a walk an easy task?
Price: £29.95 / €34.95 / $39.95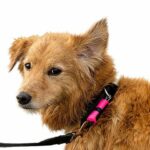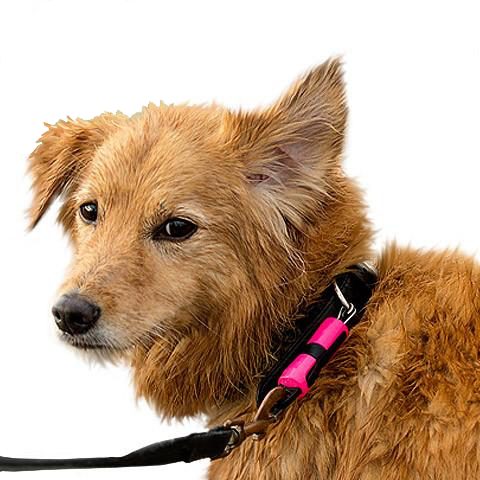 The Magloc is a unique, simple-to-use, one-handed connector designed to fit your dogs' standard collars and leads. With the magnetic attraction, units connect automatically once the lead is offered to the collar unit. Strong clips inside the device lock into the collar unit to form a strong mechanical connection. No more buttons or trigger clips needed in order to connect: great for those with reduced hand function.
Price: £11.95/ €14.95/ $16.95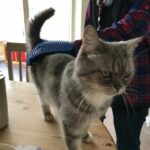 Give your pet a nice massage and shiny fur with this grooming glove. No need for hand strength, simply slide your hand into the glove and brush away. The silicon side collects any loose hairs and the velour side gives your pet a shiny coat.
The velour side can also be used to collect hairs from your soft furnishings. Simple peel the hair off the glove after use.
Price: £9.95 / €12.95 / $14.95
If dropping a paperclip turns into a 10-minute pick-up task, this is the thing for you.  Simply flex your wrist to operate the grabber, so no need for finger function or an ability to give a firm squeeze.  And no  "one-size fits no-one" – this reacher is fully adjustable and is available in left or right hand variations. Use it for anything from picking things up, to drawing curtains, to making the bed, to stealing your mate's hat.
Price: £219.95/ €249.95/ $299.95
Great for unstable wrist joints or periods of recovery from minor sprains or injury, these wrist splints are designed for those who like to keep active. The stylish, black design looks less medical than many prescribed splints.
The removable metal plate that protects the wrist can be adjusted slightly, by bending, if required. There is a neoprene section between your wrist/hand and the plate for comfort. The mesh section allows for airflow to the hand and arm. The elasticated strap around the middle of the splint allows you to tighten the aid as much or little as you like, giving you comfort and support where required. Once the metal plate is removed the elasticated wrist strap can be used for lighter support.
Price: £19.95 / €23.95 / $25.95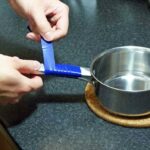 Sometimes we want a bit of extra grip around items, or maybe a bit of extra padding. This strip of silicon is anti-slip giving you a better grip on any item that you wrap it round. Unlike tape, it doesn't leave a sticky residue and it can be unwrapped and re-wrapped as required. The tape sticks to itself. Great for disability life-hacks: why not add grip to your crutches, handles, pens, cutlery etc.
Price: £3.95/ €4.95/ $5.95
Originally designed for the non-disability market the Nimble is a handy package opener that fits onto one finger. A small ceramic blade cuts when the Nimble is pulled across a surface at a 45° angle. The blade is so small that it is safe for all to use (although we recommend that small children are always supervised when using blades).
The Nimble can open a variety of packaging such as microwave meals, envelopes, salad/vegetable bags, sweet packets, boxes and that hard, heat-sealed packaging that is a nightmare to open!
Price: £8.00/ €9.95/ $12.95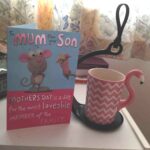 Carrying drinks, particularly hot ones, from room to room can be really difficult if you struggle with mobility or grip.  The SpillNot, however, makes this far easier!  Having placed your mug, cup or small bowl on to its non-slip base, simply slide your hand through the fabric loop at the top.  You can then swing your SpillNot around as much as you like and thanks to the laws of physics, your drink will never spill.  So now you can carry your coffee from the kitchen to the sofa or back to your desk with no problems, or even deliver a cuppa to your 'other half' in the mornings and earn yourself extra brownie points!  The SpillNot also includes a non-slip coaster which can be removed and used to protect your table-tops (it also makes a handy jar opener).
Price: £14.95/ €19.95/ $19.95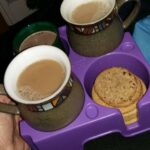 The Muggi, like the SpillNot is a drinks carrier. It may not have the same cool use of physics, but it does allow you to carry up to four drinks – or fewer drinks and some biscuits – from the kitchen to the sofa or your desk. Now there's no excuse not to make your 'other half' a cuppa (and it might help distract them if you just ate the last slice of cake…).
Price: £11.95/ €15.95/ $19.95
If you have reduced hand function it can be hard to get a grip on a steering wheel. These silicon covers are high friction, allowing the driver to get a grip by pushing against the wheel.
The steering wheel cover fits wheels from 36-40cm diameter. It is 2mm thick and has a slit running around the inside so that you can pull it over your wheel.
Price: £9.95 / €12.95 / $14.95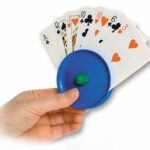 A great product for children, as well as those with hand function problems. It can be difficult to fan and hold playing cards if your hands are affected by a disability and this little gadget does it for you. Simply place the cards between the two disks and turn.
Price: £3.95/ €4.95/ $6.95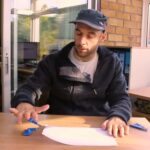 The table top scissors are a fantastic design for those with hand function problems. The scissors can be operated with one hand, while the other hand can be used to guide the paper. To use the scissors simply press down on the T-shaped handle and move the paper as desired. The spring opens up the scissors again for your next cut.
If the scissors are slipping on the table why not use them with the anti-slip coaster?
The  scissors have a pointed end and have 75mm blades.
Price (adult): £12.95/ €17.95/ $21.95