For those of you who visit our website often, we thought it might be easier to have a section that contains our newest products. These products can all be found in the other sections too.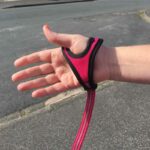 Keep a safe hold on your dog lead with this no-grip dog lead. The soft, neoprene handle of the lead slips over your thumb allowing you to hold the lead without a need for a strong grip.
The lead also has a reflective strip down it making you visible to traffic at night. Why not combine it with the MagLoc to make taking your pet out for a walk an easy task?
Price: £29.95 / €34.95 / $39.95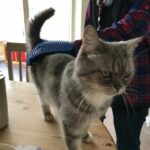 Give your pet a nice massage and shiny fur with this grooming glove. No need for hand strength, simply slide your hand into the glove and brush away. The silicon side collects any loose hairs and the velour side gives your pet a shiny coat.
The velour side can also be used to collect hairs from your soft furnishings. Simple peel the hair off the glove after use.
Price: £9.95 / €12.95 / $14.95
If you have reduced hand function it can be hard to get a grip on a steering wheel. These silicon covers are high friction, allowing the driver to get a grip by pushing against the wheel.
The steering wheel cover fits wheels from 36-40cm diameter. It is 2mm thick and has a slit running around the inside so that you can pull it over your wheel.
Price: £9.95 / €12.95 / $14.95