Whether you like to relax by playing cards, or with a spot of gardening, Active Hands have products to help you out.
If your hands are not strong enough to grip items that you use regularly the receive-all could help you. It is a device that attaches easily to your wrist and hand that has an adapter that slots into it. The item you wish to hold is attached to the adapted using some cable ties (included in the set). The receive-all is great for a wide variety of items such as knives, garden tools, fishing rod, paintbrush, a ratcheting screwdriver or other tools, hairbrush or sports equipment.
The receive-all set comes with two adapters and cable ties. A set of spare adapters, containing two more adapters, is also available .
Price: £59.95/ €79.95/ $84.95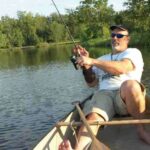 If you have poor hand function, fishing might be a hobby you've struggled with. The Strong-Arm is a hands-free fishing rod holder that gives you total control, without the need for grip.  The cuff fits securely around your arm and wrist, providing support and eliminating wrist fatigue. Simply attach the Strong-Arm to your wrist, slide the fishing rod into the holder – and get to work on catching your dinner!
Designed primarily as a fishing aid, it can also be used to hold and use golf clubs for extra Sunday-afternoon entertainment!
Price: £24.95/ €27.95/ $32.95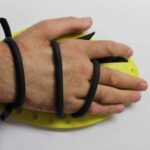 If swimming is a part of your workout or leisure time, but you struggle to form a cup shape with your hand, these swimming paddles make a really noticeable difference.  Made of plastic with three rubber loops across the back, you simply slide your hand under the loops, adjust them to fit by pulling on the other side and you're ready to go.  The extra resistance provided by these paddles enables you to swim faster and more efficiently.  They also provide a really effective workout for your arms and shoulders.
Price: £14.95/ €20.95/ $24.95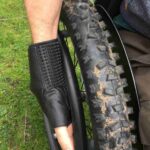 As these gloves have been designed by a C4/5 spinal injury wheelchair user, the grip section extends down the wrist to where you need it for braking. The gloves are made of a soft leather with a thick flexible textured palm that gives you extra grip for pushing, breaking and also for transferring safely.
The best gripping gloves that we have come across.
Price: £35.95/ €45.95/ $59.95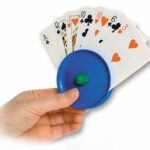 A great product for children, as well as those with hand function problems. It can be difficult to fan and hold playing cards if your hands are affected by a disability and this little gadget does it for you. Simply place the cards between the two disks and turn.
Price: £3.95/ €4.95/ $6.95
These multi-purpose gardening tools are specially designed for those who possess weakened wrist and hand function; with the right-angled grip meaning they are easier and more comfortable to hold onto. Each tool can be slotted onto the Arm Cuff for added support and reduced stress on the wrist and hand.
They also work perfectly in conjunction with Active Hands' General Purpose gripping aid, allowing you to get to grips with even the toughest bits of your garden!
Prices from: £6.95/ €9.95/ $11.95
Sugru is the incredible new self-setting rubber for fixing and improving your stuff, and making it work better for you. Out of the pack, Sugru feels like play dough, and it's that easy to use too – it can be formed by hand or with simple tools. It bonds to almost anything and turns into a strong, flexible silicone rubber overnight. That makes it perfect for fixes that need to stay flexible and waterproof. Once cured, its durable properties mean it's comfortable in extreme environments from the dishwasher to the ocean to Antarctica.
Why not add an extra grip to something you use for leisure activities – some finger grips on a cue or racquet? An extra bit on your games controller so you can hold it more securely?
Prices £13.95/ €19.95/ $23.95
---