Here are a selection of products that we think will be useful in your office:
Pulling plugs out of the wall or from socket banks under the desk can be difficult if you need to use two hands or if the plug is slim. These plug tugs wrap around the plug and allow you to slide a few fingers in to remove plugs. They are made of flexible plastic that means you can pop them into your laptop bag without them taking up too much space!
Sadly, they are only manufactured for 3-pin rectangular-pin plugs (used in the UK and a few other countries).
Price: £9.95/ €10.95/ $12.95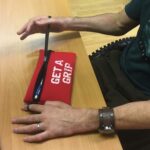 This pencil case is specifically designed for those with hand function problems. At each end of the zip is a finger ring, and attached to the zipper is large loop. This means that opening and closing the pencil case is easily done – no more using your teeth! Although we call this a 'pencil case' it is useful for storing any small items, such as make-up, toiletries or wheelchair tools. Available in a range of colours to suit you!
Price: £6.95/ €9.95/ $9.95

The Sixth Digit is a new product designed specifically for those with hand function problems to enable button and key pressing. Touch sensitive tips allow you to use this with your phone or tablet. With an adjustable ring, the Sixth Digit is worn on your little finger, hence the name. Light and unobtrusive, it can be left on your finger ready for use wherever you go.
Price: £19.95/ €27.95/ $29.95
This video shows the difference that a Sixth Digit makes to using a mobile phone.
Originally designed for the non-disability market the Nimble is a handy package opener that fits onto one finger. A small ceramic blade cuts when the Nimble is pulled across a surface at a 45° angle. The blade is so small that it is safe for all to use (although we recommend that small children are always supervised when using blades).
The Nimble can open a variety of packaging such as microwave meals, envelopes, salad/vegetable bags, sweet packets, boxes and that hard, heat-sealed packaging that is a nightmare to open!
Price: £8.00/ €9.95/ $12.95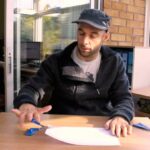 The table top scissors are a fantastic design for those with hand function problems. The scissors can be operated with one hand, while the other hand can be used to guide the paper. To use the scissors simply press down on the T-shaped handle and move the paper as desired. The spring opens up the scissors again for your next cut.
If the scissors are slipping on the table why not use them with the anti-slip coaster?
The scissors come in two sizes. The children's scissors have rounded ends and are 45mm. The adult scissors have a pointed end and have 75mm blades.
Price (child): £10.95/ €14.95/ $16.95
Price (adult): £12.95/ €17.95/ $21.95
Sugru is the incredible new self-setting rubber for fixing and improving your stuff, and making it work better for you. Out of the pack, Sugru feels like play dough, and it's that easy to use too – it can be formed by hand or with simple tools. It bonds to almost anything and turns into a strong, flexible silicone rubber overnight. That makes it perfect for fixes that need to stay flexible and waterproof. Once cured, its durable properties mean it's comfortable in extreme environments from the dishwasher to the ocean to Antarctica.
This is the perfect material for adding individual grips, bigger buttons or drop-proofing edges to make every day items that bit easier to use.
Price: £13.95/ €19.95/ $23.95
---