Gli ausili di presa a uncino sono stati progettati per permettervi di afferrare e rilasciare le impugnature della maggior parte delle attrezzature sportive nelle palestre o usate nello svolgimento di attività fisiche.  Questa coppia di ausili di presa a uncino sono stati progettati per essere usati su barre/sbarre, macchine con impugnature a barra, e alcuni tipi di manubri su biciclette di vario tipo.  Sono perfetti per situazioni in cui gli ausili ad anello non possono essere utilizzati, per esempio con barre chiuse alle estremità.
They are produced with a cleverly shaped strong stainless steel double hook, which gives stability when under tension and a pulling force that feels great and mimics a "real grip" feel when in use. The metal hooks have a thin v-shaped section as part of their design with an elastic loop attached. This innovative elastic loop is placed around a finger and prevents the hook from flopping down under its own weight when grabbing a bar overhead or when your arms are forward. This makes the Hook aid more versatile than existing hook devices, which only perform well when lifting upwards from the ground.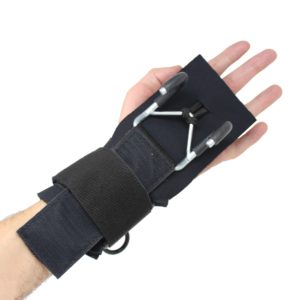 The Hook aid comes with 4 silicon tubes for optional use. The Hook aid can be used without these and this may be the preferred way when gripping some items such as rubberised, foam covered or padded bars. However, if preferred, these silicon tubes can be added to both of the 2 pronged hooks (4 in total). The tubes will give a level of padding, increase grip (preventing metal to metal slipping on some gripped items), and reduce rotation of the gripped object. Please remember they will also slightly reduce the internal diameter of the hook and once added they may not be easily removed. However, we have found in most situations they improve the performance of the hooks. The tubing can be added by applying a drop of hand soap down the tube and twisting the tubes as you push them on (you may require assistance with this).
After you have used the Hook aids a few times there are various options to personalise/customise them for your own specific hand size and usage. If it is interfering with the elastic loop, the neoprene material that fits in the palm of the hand can be trimmed to your specific requirements. The neoprene can be cut to size using scissors or a sharp knife (you may wish to get assistance with this). The other option is to cut a small slit in the neoprene and pass the elastic loop through this, as shown in the diagram. We recommend using the Hook aids a number of times before altering them in any way as once this is done the alterations will be permanent.
I recently bought the new hook style grips, and love that they allow me to do a few different things independently. I am able to use more of my gym's weight machines, especially the pull-down type, without having assistance to adjust my gripping aids. I'm still playing around with what works best but it's great to have more fitness options available.
Cyndi Michener
Istruzioni per l'uso. Please remove the hooks before washing.
Guida sulle taglie
Guida sulle taglie per Looped, D-Ring and Hook aids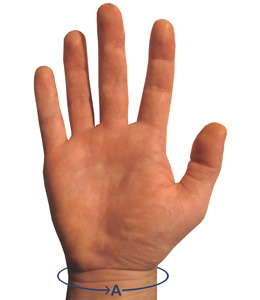 A = circonferenza della parte più stretta del polso
A: Polso
Standard*:

Grande

:
135mm – 185mm
180mm – 220mm
5.3″-7.2″
7.1″-8.7″
(n.b. Le misure sono approssimative)
*La taglia "standard" dovrebbe essere adatta a un polso piccolo, poiché questi ausili possono essere serrati più di quanto non lo siano i nostri ausili di presa per uso generico.
Se avete richieste specifiche che non possono essere risolte dalle nostre taglie, potremmo realizzarvi degli ausili su misuraper soddisfare le vostre esigenze.
Il miglior ausilio di presa per me?
Ora Active Hands vende una vasta gamma di ausili di presa per un'ampia serie di attività. Per aiutarvi a decidere quale ausilio di presa è più giusto per voi, siete invitati a leggere la guida qui di seguito.
A prima vista…
In che modo la vostra disabilità vi influenza?

Quali  cose od oggetti volete afferrare?

Quale ausilio è giusto per voi?

Ridotta funzionalità della mano / Scarsa forza nelle dita

Tremori o movimenti involontari

(Questo include persone con lesioni al midollo spinale, persone affette da SM, paralisi cerebrale, sindrome di Guillan-Barré, distrofia muscolare, spina bifida, pazienti sopravvissuti a un ictus e altre disabilità simili)


Attrezzi da palestra

General Purpose gripping aids
D-ring gripping aid
Looped exercise aid
Hook aids
Gym pack/Gym pack deluxe

Utensili del Fai-da-te

General Purpose gripping aid

Suppellettili da cucina

General Purpose gripping aid

Attrezzature sportive; vogatore, kayak, ecc.

General Purpose gripping aid
Looped Exercise aid
Hook aids

Attrezzi da giardinaggio

General Purpose gripping aid

Attrezzature per sport invernali come lo sci adattativo

Winter Sports aid

Oggetti di piccolo diametro: penne, trucco, spazzolino da denti

Small Item gripping aid

Triciclo adattivo/girello/deambulatore per bambini

General Purpose Mini aid (for children under 5) or General Purpose gripping aid

Dita mancanti/ Parti mancanti delle mani

Questo include le persone affette da dismelia (condizione presente fin dalla nascita), o con amputazioni, malattie o lesioni avvenute successivamente nel corso della vita.


Attrezzi da palestra

Limb Difference gripping aid
D-ring gripping aid
Looped exercise aid

Utensili del Fai-da-te

Limb Difference gripping aid

Suppellettili da cucina

Limb Difference gripping aid

Attrezzature sportive; vogatore, kayak, ecc.

Limb Difference gripping aid

Attrezzi da giardinaggio

Limb Difference gripping aid