General Purpose Mini aid
$69.95
This item is sold as a single gripping aid (either left or right).
Buy a Mini aid and Active Hands will make a donation to the Back-Up Trust (see below)
Perfect for little hands, Active Hands Mini aids are a colourful adaptation of our General Purpose aid for under fives. Many medical conditions can affect children's grip or hand function, from Cerebral Palsy to Guillain-Barré syndrome, Muscular Dystrophy to Spina Bifida, but with our Mini aids none of these need be a bar to having fun!
For many young children, Active Hands Mini aids are an essential extra for an adaptive tricycle, helping them hold onto the handlebars tightly and securely, but they might find them equally useful for a variety of other play activities.
Well they work as well as I could have hoped…His movement is much more controlled, he is stronger at pedaling (which is great exercise for him).  The teachers in his school, his parents, and of course myself could not be happier.  Thank you!!
Bob Majkrzak
Available in pink or blue, Mini aids fasten on the back of the wrist, making the job of fastening much easier for parents and carers. Download our instruction leaflet to see how to put the aids on.
For older children, see our General Purpose aids, available in three sizes including 'Small', which usually comfortably fits children aged five to ten. See our size guide (in tab above) to find out which size is best for you.
Active Hands aids are both kind to the skin and made to last. Built from tough webbing and comfortable but durable neoprene (wet suit material) they're designed to withstand regular use, even for strenuous activities. All our aids are machine washable!
For each mini aid purchased Active Hands donates £2 to back-up kids and you will receive an orange 'Back-up' bug with your order. Back-up is a UK charity that supports those with spinal cord injuries. Click here for more information about the charity.
Guida sulle taglie
Usate questa guida sulle taglie per capire quale ausilio di presa Active Hands si adatta meglio alla vostra mano e al vostro polso.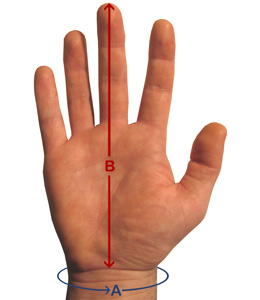 A = circonferenza della parte più stretta del polso
B = lunghezza dalla piega del polso (il punto in cui la mano si unisce al polso) fino alla punta del dito medio
A: Polso
Mini:

Piccolo

:
Standard:

Grande

:
120mm – 140mm
135mm – 150mm
145mm – 185mm
180mm – 220mm
4.7″-5.5″
5.3″-5.9″
5.7″-7.2″
7.1″-8.7″
B: dal polso alla punta del dito medio
Mini:

Piccolo

:
Standard:

Grande

:
120mm – 140mm
135mm – 175mm
175mm – 210mm
195mm – 280mm
4.7″-5.5″
5.3″-6.9″
6.8″-8.3″
7.7″-11.0″
(n.b. Le misure sono approssimative)
Guida generale sulle taglie in base all'età:
Mini:

Piccolo

:
Standard:

Grande

:

Bambini fino a 5 anni

Bambini con più di 5 anni e adulti di costituzione minuta

Adulti

Persone con mani grandi
Se avete richieste specifiche che non possono essere risolte dalle nostre taglie, potremmo realizzarvi degli ausili su misuraper soddisfare le vostre esigenze. Email info@activehands.com.
Il miglior ausilio di presa per me?
Ora Active Hands vende una vasta gamma di ausili di presa per un'ampia serie di attività. Per aiutarvi a decidere quale ausilio di presa è più giusto per voi, siete invitati a leggere la guida qui di seguito.
A prima vista…
In che modo la vostra disabilità vi influenza?

Quali  cose od oggetti volete afferrare?

Quale ausilio è giusto per voi?

Ridotta funzionalità della mano / Scarsa forza nelle dita

Tremori o movimenti involontari

(Questo include persone con lesioni al midollo spinale, persone affette da SM, paralisi cerebrale, sindrome di Guillan-Barré, distrofia muscolare, spina bifida, pazienti sopravvissuti a un ictus e altre disabilità simili)


Attrezzi da palestra

General Purpose gripping aids
D-ring gripping aid
Looped exercise aid
Hook aids
Gym pack/Gym pack deluxe

Utensili del Fai-da-te

General Purpose gripping aid

Suppellettili da cucina

General Purpose gripping aid

Attrezzature sportive; vogatore, kayak, ecc.

General Purpose gripping aid
Looped Exercise aid
Hook aids

Attrezzi da giardinaggio

General Purpose gripping aid

Attrezzature per sport invernali come lo sci adattativo

Winter Sports aid

Oggetti di piccolo diametro: penne, trucco, spazzolino da denti

Small Item gripping aid

Triciclo adattivo/girello/deambulatore per bambini

General Purpose Mini aid (for children under 5) or General Purpose gripping aid

Dita mancanti/ Parti mancanti delle mani

Questo include le persone affette da dismelia (condizione presente fin dalla nascita), o con amputazioni, malattie o lesioni avvenute successivamente nel corso della vita.


Attrezzi da palestra

Limb Difference gripping aid
D-ring gripping aid
Looped exercise aid

Utensili del Fai-da-te

Limb Difference gripping aid

Suppellettili da cucina

Limb Difference gripping aid

Attrezzature sportive; vogatore, kayak, ecc.

Limb Difference gripping aid

Attrezzi da giardinaggio

Limb Difference gripping aid