D-Ring aids
$69.95
D-Rings are sold as a pair.
Durable and versatile
Gli ausili a D sono ideali per la palestra. Possono essere fissati direttamente ai moschettoni sugli attrezzi della palestra come macchine dotate di cavi e pulegge. Questo permette di avere maggior margine di movimento e di poter tirare direttamente dal polso.
Questi ausili  sono utili sia per le persone con debolezza nelle mani, che per quelle che non hanno l'arto completo.
How they work
The D-Ring aids come as a pair – left and right hands. The wrist section is tightened using a strip of velcro with a ring on the end. Attached to this wrist section is a D-Ring which allows for attachment directly to the karibiner on gym equipment. You can download our instructions leaflet.
As a person with upper limb disability, including a lack of finger movement, I have found this product to be an essential part of my maintaining fitness at the gym whilst remaining independent. They can easily be hooked onto gym apparatus and then you don't need to worry about struggling to grip whilst pulling in any direction. They're so simple to use and so effective, I don't know where I'd be without them!
Gareth Herridge
Which size should I buy?
Most adults find that our 'Standard' size fits them, however D-Ring aids are also available in 'Large'. See our size guide to find out which size is best for you.
Made of Strong Stuff
Active Hands aids are both kind to the skin and made to last. Built from tough webbing and comfortable but durable neoprene (wet suit material) they're designed to withstand regular use, even for strenuous activities. All aids are machine washable.
Guida sulle taglie
Guida sulle taglie per Looped, D-Ring and Hook aids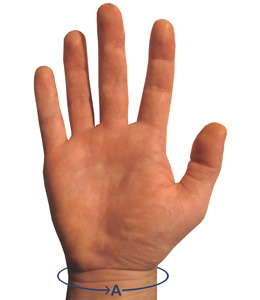 A = circonferenza della parte più stretta del polso
A: Polso
Standard*:

Grande

:
135mm – 185mm
180mm – 220mm
5.3″-7.2″
7.1″-8.7″
(n.b. Le misure sono approssimative)
*La taglia "standard" dovrebbe essere adatta a un polso piccolo, poiché questi ausili possono essere serrati più di quanto non lo siano i nostri ausili di presa per uso generico.
Se avete richieste specifiche che non possono essere risolte dalle nostre taglie, potremmo realizzarvi degli ausili su misuraper soddisfare le vostre esigenze.
Il miglior ausilio di presa per me?
Ora Active Hands vende una vasta gamma di ausili di presa per un'ampia serie di attività. Per aiutarvi a decidere quale ausilio di presa è più giusto per voi, siete invitati a leggere la guida qui di seguito.
A prima vista…
In che modo la vostra disabilità vi influenza?

Quali  cose od oggetti volete afferrare?

Quale ausilio è giusto per voi?

Ridotta funzionalità della mano / Scarsa forza nelle dita

Tremori o movimenti involontari

(Questo include persone con lesioni al midollo spinale, persone affette da SM, paralisi cerebrale, sindrome di Guillan-Barré, distrofia muscolare, spina bifida, pazienti sopravvissuti a un ictus e altre disabilità simili)


Attrezzi da palestra

General Purpose gripping aids
D-ring gripping aid
Looped exercise aid
Hook aids
Gym pack/Gym pack deluxe

Utensili del Fai-da-te

General Purpose gripping aid

Suppellettili da cucina

General Purpose gripping aid

Attrezzature sportive; vogatore, kayak, ecc.

General Purpose gripping aid
Looped Exercise aid
Hook aids

Attrezzi da giardinaggio

General Purpose gripping aid

Attrezzature per sport invernali come lo sci adattativo

Winter Sports aid

Oggetti di piccolo diametro: penne, trucco, spazzolino da denti

Small Item gripping aid

Triciclo adattivo/girello/deambulatore per bambini

General Purpose Mini aid (for children under 5) or General Purpose gripping aid

Dita mancanti/ Parti mancanti delle mani

Questo include le persone affette da dismelia (condizione presente fin dalla nascita), o con amputazioni, malattie o lesioni avvenute successivamente nel corso della vita.


Attrezzi da palestra

Limb Difference gripping aid
D-ring gripping aid
Looped exercise aid

Utensili del Fai-da-te

Limb Difference gripping aid

Suppellettili da cucina

Limb Difference gripping aid

Attrezzature sportive; vogatore, kayak, ecc.

Limb Difference gripping aid

Attrezzi da giardinaggio

Limb Difference gripping aid