Active Hands Gym Pack
$259.95
A great value bundle, our Gym Pack packages together three pairs of our most popular aids to unlock a whole range of gym equipment for you, plus a stylish gym bag to store them all in. Saving you more than £25 (€30/$35) compared to buying the aids individually, the pack includes:
Our gym packs are available in small, standard or large gripping aid sizes.
"I've just bought the gym pack which I used yesterday at the spinal unit gym. Great design and quality finish – I'm 30 years post injury c6 tetra. I have used lots of products during this time, but none as good as these."

Rachel Knowles
Active Hands aids are both kind to the skin and made to last. Built from tough webbing and comfortable but durable neoprene (wet suit material) they're designed to withstand regular use, even for strenuous activities. All aids are machine washable.
Guida sulle taglie
Usate questa guida sulle taglie per capire quale ausilio di presa Active Hands si adatta meglio alla vostra mano e al vostro polso.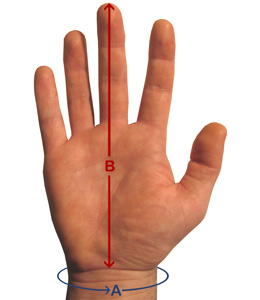 A = circonferenza della parte più stretta del polso
B = lunghezza dalla piega del polso (il punto in cui la mano si unisce al polso) fino alla punta del dito medio
A: Polso
Mini:

Piccolo

:
Standard:

Grande

:
120mm – 140mm
135mm – 150mm
145mm – 185mm
180mm – 220mm
4.7″-5.5″
5.3″-5.9″
5.7″-7.2″
7.1″-8.7″
B: dal polso alla punta del dito medio
Mini:

Piccolo

:
Standard:

Grande

:
120mm – 140mm
135mm – 175mm
175mm – 210mm
195mm – 280mm
4.7″-5.5″
5.3″-6.9″
6.8″-8.3″
7.7″-11.0″
(n.b. Le misure sono approssimative)
Guida generale sulle taglie in base all'età:
Mini:

Piccolo

:
Standard:

Grande

:

Bambini fino a 5 anni

Bambini con più di 5 anni e adulti di costituzione minuta

Adulti

Persone con mani grandi
Se avete richieste specifiche che non possono essere risolte dalle nostre taglie, potremmo realizzarvi degli ausili su misuraper soddisfare le vostre esigenze. Email info@activehands.com.