Looped exercise aids
$99.95
Looped aids are sold as a pair.
Idéales pour la salle de sport, les boucles de préhension sont dotées de boucles robustes qui peuvent être glissées sur les poignées de certaines machines d'entraînement, par exemple les barres de traction et les rameurs. Si vous préférez les grands espaces en plein air, elles constituent également un supplément indispensable pour certains vélos à bras. Nos boucles de préhension sont dotées de poignets rembourrés et réglables pour éviter les problèmes de friction.
Designed for solo use, Looped exercise aids easily slide on and off your machine or handbike when not under tension, allowing complete individual independence and the ability to 'let go' during rest periods. With an improved design incorporating tougher loops, Looped exercise aids are even easier to slip on and off your equipment. Download our Looped aid instructions leaflet to see how to put the aids on.
I use the Looped aid when I row in my single (one-person boat), or when I use the erg (rowing machine). When rowing in my single, I have to hold an oar in each hand. With only a thumb and a crooked pinky finger, I cannot grip the oar and pull with full force: I tape the loop part of the gripping aid on the oar so that it doesn't rotate, and attach the grip aid to my wrist. I can then pull as hard as I want.
Véronique Boucher
Looped exercise aids come in standard or large and are sold as a pair.
Active Hands aids are both kind to the skin and made to last. Built from tough webbing and comfortable but durable neoprene (wet suit material) they're designed to withstand regular use, even for strenuous activities. All aids are machine washable.
Guide des Tailles
Boucles de préhension, Anneaux de préhension et Crochet de préhension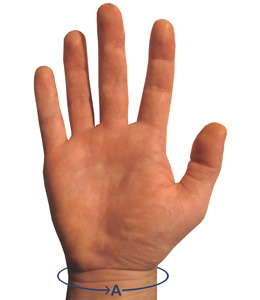 A = circonférence du poignet à l'endroit le plus étroit
A:
Poignet
Standard*:

Grande taill

e:
135mm – 185mm
180mm – 220mm
5.3″-7.2″
7.1″-8.7″
(n.b. Les mesures sont approximatives)
* La taille «standard» devrait convenir à un petit poignet car ces aides peuvent être resserrées davantage que nos aides à la préhension tout usage.
En cas d'exigences spécifiques, vous pouvez faire appel à notre service de confection sur mesure pour obtenir une poignée de préhension répondant parfaitement à vos besoins.
Comment choisir l'aide qui vous convient le mieux ?
Active Hands propose désormais une large gamme d'aides à la préhension convenant à une grande variété d'activités. Pour vous aider à choisir l'aide à la préhension qui vous convient, veuillez lire le guide ci-dessous.
En bref…
Quels sont les effets de votre handicap ?

Que souhaitez-vous agripper ?

Quelle est l'aide qui vous convient le mieux ?

Troubles fonctionnels de la main / Faiblesse des doigts

Tremblements ou mouvements involontaires

(Cela peut inclure les personnes atteintes de lésion médullaire, de sclérose en plaques, de paralysie cérébrale, de syndrome de Guillain-Barré, de dystrophie musculaire, de spina bifida, de survivants d'un accident vasculaire cérébral et d'autres handicaps similaires.)


Matériel de fitness

General Purpose gripping aids
D-ring gripping aid
Looped exercise aid
Hook aids
Gym pack/Gym pack deluxe

Outils de bricolage

General Purpose gripping aid

Accessoires de cuisine

General Purpose gripping aid

Équipements sportifs. Aviron, kayak, etc.

General Purpose gripping aid
Looped Exercise aid
Hook aids

Outils de jardin

General Purpose gripping aid

Équipements de sports d'hiver comme le handiski

Winter Sports aid

Objets de petit diamètre (stylo, maquillage, brosse à dents)

Small Item gripping aid

Handitricycle / déambulateur pour enfants

General Purpose Mini aid (for children under 5) or General Purpose gripping aid

Doigts manquants / 

Parties manquantes de la main

Cela peut inclure des personnes atteintes de dysmélie (affections de la naissance), d'amputation, de maladie ou de lésions subites plus tard dans la vie.


Matériel de fitness

Limb Difference gripping aid
D-ring gripping aid
Looped exercise aid

Outils de bricolage

Limb Difference gripping aid

Accessoires de cuisine

Limb Difference gripping aid

Équipements sportifs. Aviron, kayak, etc.

Limb Difference gripping aid

Outils de jardin

Limb Difference gripping aid