General Purpose Mini aid
$69.95
Cet article est vendu individuellement (main gauche ou main droite).
Buy a Mini aid and Active Hands will make a donation to the Back-Up Trust (see below)
Perfect for little hands, Active Hands Mini aids are a colourful adaptation of our General Purpose aid for under fives. Many medical conditions can affect children's grip or hand function, from Cerebral Palsy to Guillain-Barré syndrome, Muscular Dystrophy to Spina Bifida, but with our Mini aids none of these need be a bar to having fun!
For many young children, Active Hands Mini aids are an essential extra for an adaptive tricycle, helping them hold onto the handlebars tightly and securely, but they might find them equally useful for a variety of other play activities.
Well they work as well as I could have hoped…His movement is much more controlled, he is stronger at pedaling (which is great exercise for him).  The teachers in his school, his parents, and of course myself could not be happier.  Thank you!!
Bob Majkrzak
Available in pink or blue, Mini aids fasten on the back of the wrist, making the job of fastening much easier for parents and carers. Download our instruction leaflet to see how to put the aids on.
For older children, see our General Purpose aids, available in three sizes including 'Small', which usually comfortably fits children aged five to ten. See our size guide (in tab above) to find out which size is best for you.
Active Hands aids are both kind to the skin and made to last. Built from tough webbing and comfortable but durable neoprene (wet suit material) they're designed to withstand regular use, even for strenuous activities. All our aids are machine washable!
For each mini aid purchased Active Hands donates £2 to back-up kids and you will receive an orange 'Back-up' bug with your order. Back-up is a UK charity that supports those with spinal cord injuries. Click here for more information about the charity.
Guide des Tailles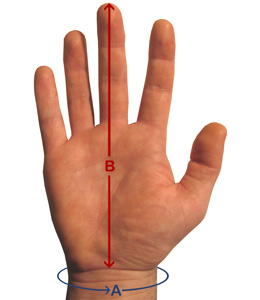 A = circonférence du poignet à l'endroit le plus étroit
B = distance entre le pli de la main (à la jointure du poignet) et le bout du majeur
A:
Poignet
| | | | |
| --- | --- | --- | --- |
| Mini: | Small: | Standard: | Large: |
| 120mm – 140mm | 135mm – 150mm | 145mm – 185mm | 180mm – 220mm |
| 4.7″-5.5″ | 5.3″-5.9″ | 5.7″-7.2″ | 7.1″-8.7″ |
B:
Poignet – Bout du majeur
Mini:

Petite taille

:
Standard:

Grande taille

:
120mm – 140mm
135mm – 175mm
175mm – 210mm
195mm – 280mm
4.7″-5.5″
5.3″-6.9″
6.8″-8.3″
7.7″-11.0″
(n.b. Les mesures sont approximatives)
Taille approximative en fonction de l'âge :
Mini:

Petite taille

:
Standard:

Grande taille

:

Enfants jusqu'à 5 ans

Enfants de plus de 5 ans et petites mains d'adulte

Adultes

Grandes main

s
En cas d'exigences spécifiques, vous pouvez faire appel à notre service de confection sur mesure pour obtenir une poignée de préhension répondant parfaitement à vos besoins.
Comment choisir l'aide qui vous convient le mieux ?
Active Hands propose désormais une large gamme d'aides à la préhension convenant à une grande variété d'activités. Pour vous aider à choisir l'aide à la préhension qui vous convient, veuillez lire le guide ci-dessous.
En bref…
Quels sont les effets de votre handicap ?

Que souhaitez-vous agripper ?

Quelle est l'aide qui vous convient le mieux ?

Troubles fonctionnels de la main / Faiblesse des doigts

Tremblements ou mouvements involontaires

(Cela peut inclure les personnes atteintes de lésion médullaire, de sclérose en plaques, de paralysie cérébrale, de syndrome de Guillain-Barré, de dystrophie musculaire, de spina bifida, de survivants d'un accident vasculaire cérébral et d'autres handicaps similaires.)


Matériel de fitness

General Purpose gripping aids
D-ring gripping aid
Looped exercise aid
Hook aids
Gym pack/Gym pack deluxe

Outils de bricolage

General Purpose gripping aid

Accessoires de cuisine

General Purpose gripping aid

Équipements sportifs. Aviron, kayak, etc.

General Purpose gripping aid
Looped Exercise aid
Hook aids

Outils de jardin

General Purpose gripping aid

Équipements de sports d'hiver comme le handiski

Winter Sports aid

Objets de petit diamètre (stylo, maquillage, brosse à dents)

Small Item gripping aid

Handitricycle / déambulateur pour enfants

General Purpose Mini aid (for children under 5) or General Purpose gripping aid

Doigts manquants / 

Parties manquantes de la main

Cela peut inclure des personnes atteintes de dysmélie (affections de la naissance), d'amputation, de maladie ou de lésions subites plus tard dans la vie.


Matériel de fitness

Limb Difference gripping aid
D-ring gripping aid
Looped exercise aid

Outils de bricolage

Limb Difference gripping aid

Accessoires de cuisine

Limb Difference gripping aid

Équipements sportifs. Aviron, kayak, etc.

Limb Difference gripping aid

Outils de jardin

Limb Difference gripping aid