Description
A great value bundle, our Gym Pack packages together three pairs of our most popular aids to unlock a whole range of gym equipment for you, plus a stylish gym bag to store them all in. Saving you more than £25 (€30/$35) compared to buying the aids individually, the pack includes:
Our gym packs are available in small, standard or large gripping aid sizes.
« I've just bought the gym pack which I used yesterday at the spinal unit gym. Great design and quality finish – I'm 30 years post injury c6 tetra. I have used lots of products during this time, but none as good as these. »

Rachel Knowles
Active Hands aids are both kind to the skin and made to last. Built from tough webbing and comfortable but durable neoprene (wet suit material) they're designed to withstand regular use, even for strenuous activities. All aids are machine washable.
Guide des Tailles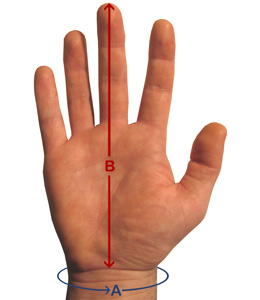 A = circonférence du poignet à l'endroit le plus étroit
B = distance entre le pli de la main (à la jointure du poignet) et le bout du majeur
A:
Poignet
| | | | |
| --- | --- | --- | --- |
| Mini: | Small: | Standard: | Large: |
| 120mm – 140mm | 135mm – 150mm | 145mm – 185mm | 180mm – 220mm |
| 4.7″-5.5″ | 5.3″-5.9″ | 5.7″-7.2″ | 7.1″-8.7″ |
B:
Poignet – Bout du majeur
Mini:

Petite taille

:
Standard:

Grande taille

:
120mm – 140mm
135mm – 175mm
175mm – 210mm
195mm – 280mm
4.7″-5.5″
5.3″-6.9″
6.8″-8.3″
7.7″-11.0″
(n.b. Les mesures sont approximatives)
Taille approximative en fonction de l'âge :
Mini:

Petite taille

:
Standard:

Grande taille

:

Enfants jusqu'à 5 ans

Enfants de plus de 5 ans et petites mains d'adulte

Adultes

Grandes main

s
En cas d'exigences spécifiques, vous pouvez faire appel à notre service de confection sur mesure pour obtenir une poignée de préhension répondant parfaitement à vos besoins.