Active Hands Gym Pack Deluxe
$329.95
Tous les accessoires de préhension pour la salle de sport. Faites des économies grâce à notre excellent choix d'aides à la préhension. A vous les haltères, les barres de traction, les machines à câbles et à poulies, les rameurs et plus encore !
A great value bundle, our new Gym Pack Deluxe packages together six pairs of our most popular aids to unlock a whole range of gym equipment for you, plus a stylish gym bag to store them all in. Saving you over £70 (US$150, €110) compared to buying the aids individually, the pack includes:
Our gym packs are available in small, standard or large gripping aids sizes.
My disability didn't make things easy, getting a grip on the erg handle, the left oar and the weights was difficult but my coach gave me a bag of Active Hands gripping aids and it made physical activity possible again.
Véronique Boucher
Active Hands aids are both kind to the skin and made to last. Built from tough webbing and comfortable but durable neoprene (wet suit material) they're designed to withstand regular use, even from strenuous activities. All aids are machine washable.
I placed an order for the gym pack deluxe which I have received and used and I must say it works incredible.
Barton Harder
Guide des Tailles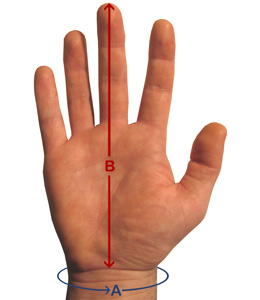 A = circonférence du poignet à l'endroit le plus étroit
B = distance entre le pli de la main (à la jointure du poignet) et le bout du majeur
A:
Poignet
| | | | |
| --- | --- | --- | --- |
| Mini: | Small: | Standard: | Large: |
| 120mm – 140mm | 135mm – 150mm | 145mm – 185mm | 180mm – 220mm |
| 4.7″-5.5″ | 5.3″-5.9″ | 5.7″-7.2″ | 7.1″-8.7″ |
B:
Poignet – Bout du majeur
Mini:

Petite taille

:
Standard:

Grande taille

:
120mm – 140mm
135mm – 175mm
175mm – 210mm
195mm – 280mm
4.7″-5.5″
5.3″-6.9″
6.8″-8.3″
7.7″-11.0″
(n.b. Les mesures sont approximatives)
Taille approximative en fonction de l'âge :
Mini:

Petite taille

:
Standard:

Grande taille

:

Enfants jusqu'à 5 ans

Enfants de plus de 5 ans et petites mains d'adulte

Adultes

Grandes main

s
En cas d'exigences spécifiques, vous pouvez faire appel à notre service de confection sur mesure pour obtenir une poignée de préhension répondant parfaitement à vos besoins.