Active Hands gripping aids could open up your activity centre to a wider range of disabled participants, whether you offer a single, specialist activity, or a wide range of challenges.
Our General Purpose gripping aid can be used wherever an object needs to be grasped in a hand. Listed below are some of the common activities that our aids could be used in to give access to your disabled clients.
Many of our customers have said that our gripping aids give them more control, particularly in areas where previously they would have had to tape or bandage their hands to objects.
Water Sports
Active Hands General Purpose gripping aids can be used out on the water in a variety of ways. Many of our customers use the aids for rowing, both for pleasure and for competing. They can be used with kayak paddles and also with Canadian canoe paddles. The aids attach the user's hand around the oars/paddles and help them to grip firmly, even when wet. Our aids are made from neoprene and strong webbing and can be machine washed when dirty.
Our General Purpose aids have other uses in water sports – for example, holding the tiller on a boat when sailing.
Disclaimer: Please note that the gripping aids do not have a quick release system so use on the water must be closely supervised and undertaken at the customer's own risk.
Rock and Rope
Our gripping aids can be used to grip some of the assistive devices that can be used to help those with disabilities access rock and rope activities. The General Purpose aids are best in this situation as they can be used to hold on to ascending devices such as the one in the picture, some types of abseiling descent control equipment, items such as handles that can be used on zip lines and other devices you need to hang from or be attached by the hands.
Bikes, Trikes and Off-road Adventuring
Whether you run a drop in biking session or a serious off-roading club Active Hands gripping aids can help your clients to get a grip on handle bars. Our General Purpose gripping aids are good for holding onto the controls of off-road bikes such as the Boma or Mountain Trike.
Our mini aids are great for children under 5 to get a grip on adaptive bikes, trikes, scooters and ride-ons. The over-hand strap is designed to do up in the opposite way to our adult aids to allow a carer to easily put the aids on to a child. Our small General Purpose gripping aid should fit those over the age of 5.
Both our Looped aids and General Purpose gripping aids are great for use with hand-bikes and recumbent bikes. The looped aids have a stiff loop that allows you to slip the aid over the handlebar of a hand-bike but allow you to remove it quickly if necessary. The General Purpose gripping aid gives you a firmer hold on the handlebars.
Our aids have also been used with ATVs and other motorised off-road vehicles. Caution must be exercised as the gripping aids do not release easily, however they give control to those needing to grip the handlebars and enables use of twist-throttle powered vehicles.
One of our customers, Fabrice, uses our gripping aids for a wide range of exciting activities, from sailing to horse and trap driving. Here he uses them to steer a land-yacht:
Equestrian Activities

Our gripping aids can also be used to grip controls of some types of horse drawn vehicles for those who do not have hand strength or control.
Winter Sports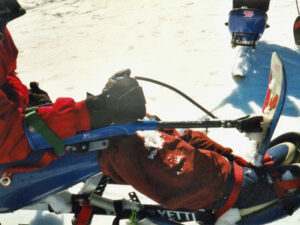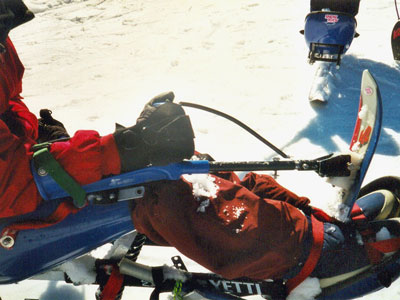 Our Winter Sports gripping aid fits over winter gloves allowing those with hand weaknesses to partake in winter sports such as ski karting, sit-skiing, indoor and outdoor skiing and sled-hockey. The gripping aids give you a firm grip on out-riggers, kart steering mechanism or sled propulsion sticks.
The Winter Sports gripping aids are intended only for use with thick gloves, therefore the neoprene layer is omitted.