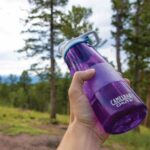 The non-abrasive grip tape is also made by Cat's Tongue and has the same texture as the phone/laptop grips. The tape is grippy without being scratchy or sticky so it won't pick up all the little bits that come from who-knows-where! This tape can be cut to shape with scissors so if you want a certain shape to go on your camera, round an awkward handle or under a dish then you can customise it as you wish. It will even survive the dishwasher!
Prices: £19.95 / €24.95 / $19.99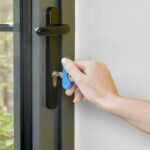 Keys can be tricky to turn due to the small size of their heads. These keywings can be added to the top of most keys (see shop entry) to make the keys easier to turn. They come in three different colours and are also available in a pack of 3. Why not put one on all of your keys?
Prices from: £4.95 / 6.95 € / $8.95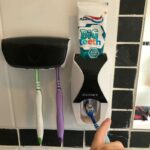 Squeezing a tube of toothpaste is not a straight-forward activity when you have reduced hand function. This toothpaste dispenser operates by pushing your toothbrush into the slot. When the cradle is pushed back a ribbon of toothpaste is delivered onto your brush. It comes with a handy toothbrush rack too. Both items fix to the wall with sticky pads (included).
Great for kids too – mine used to squeeze out far to much but this prevents such mishaps!
Price: £9.95/ €12.95/ $14.95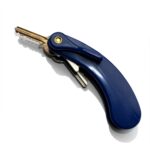 Keys can feel small and fiddly to use when you have reduced hand function. This key turner gives you a chunky handle to hold while you insert and turn the key, making it easier to unlock doors. The lever firmly holds the key in place so you can insert it into the lock more easily.
Price: £7.95/ €9.95/ $11.95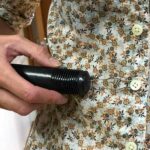 The button puller is great for doing up and un-doing buttons. Just pop the metal hook through the button hole and around the button, hold the fabric down and pull through. With a bit of practice it is possible to do it one-handed! To un-do buttons put the hook over the button and post it back through the hole. It took me a little bit of practice to get the knack but when you do it makes dressing so much easier!
Price: £6.95/ €8.95/ $10.95
Pulling plugs out of the wall or from socket banks under the desk can be difficult if you need to use two hands or if the plug is slim. These plug tugs wrap around the plug and allow you to slide a few fingers in to remove plugs. Ideal for thin plugs, like Apple ones! They are made of flexible plastic that means you can pop them into your laptop bag without them taking up too much space!
Sadly, they are only manufactured for 3-pin rectangular-pin plugs (used in the UK and a few other countries).
Price: £9.95/ €10.95/ $12.95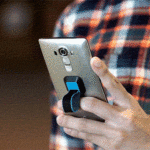 Ungrip is a smart, easy to use device that attaches to the back of any mobile, instantly cutting out the risk of dropping and damaging your phone and making it ideal for anyone with weakened grip. Simply slip your finger through the looped fabric and the phone is securely positioned in the palm of your hand, ready for use. The phone can also be twisted and manoeuvred in your hand, making it perfect for taking photos or videos!
Available in a variety of colours and styles, Ungrip is both a gripping aid and a fashion accessory for your phone!
Prices from: £9.95/ €11.95/ $16.95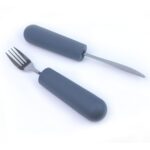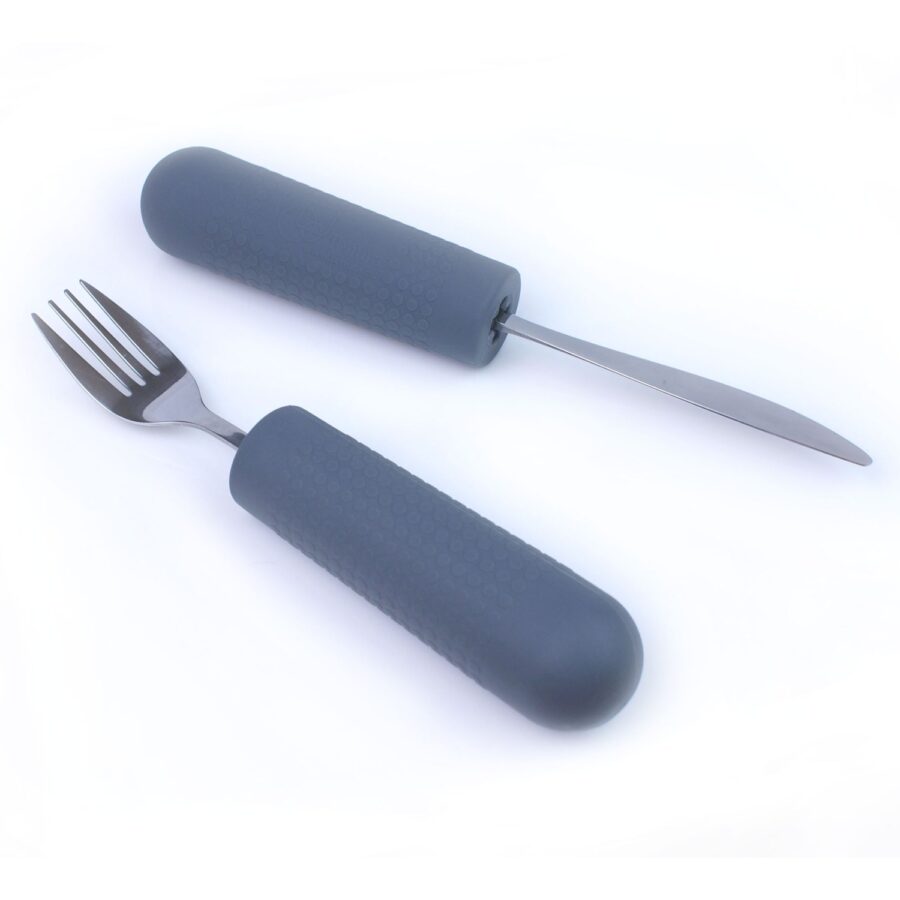 If you want to continue using your own cutlery but can't grip the handles then these cutlery grips are for you. They fit on most utensils and can also be used for holding pens or toothbrushes. They are dishwasher safe for easy and hygienic cleaning.
Available in both adult and child sizes.
Price: £14.95/ €20.95 /$24.95
If dropping a paperclip turns into a 10-minute pick-up task, this is the thing for you.  Simply flex your wrist to operate the grabber, so no need for finger function or an ability to give a firm squeeze.  And no  "one-size fits no-one" – this reacher is fully adjustable and is available in left or right hand variations. Use it for anything from picking things up, to drawing curtains, to making the bed, to stealing your mate's hat.
Price: £219.95/ €249.95/ $299.95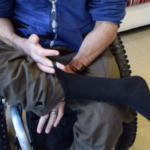 Putting socks on when you have reduced finger function can be a tricky business. These socks make putting on socks what you want it  to be: a simple daily activity. Simply slide a finger through each loop and pull your socks on with no fuss.
The standard thin cotton socks are perfect for day-to-day use and the thick winter socks, with a tog rating of 2.45, are fluffy and soft on the inside and perfect for keeping your toes warm when it's too cold outside!
Price: £7.95 – 39.95/ €9.95 – €54.95/ $11.95 – $69.95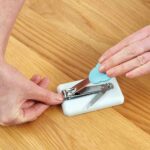 Hand function disabilities can make nail clippers difficult to use. These table top nail clippers are designed to be used by pressing down on a lever with one hand. The non-slip feet on the bottom of the plastic mount hold the clippers in place, allowing you to pop your nail in and press down to cut.
Price: £9.95/ €14.95/ $16.95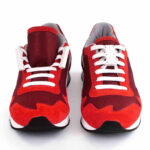 Zubits are shoe fasteners that stick together magnetically. The Zubits replace three lace holes – the laces thread through the Zubits, and the holes in the shoes, and then the laces can be knotted or secured with the included tabs and cut or tucked in. Those with hand function weakness may need someone else to set the Zubits up for them but once they are on they give a wide access to shoes and are easy to click together. Standing on the back of the shoe and pushing forward releases the magnets.
Prices: £17.95/ €19.95/ $20.95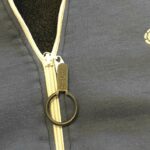 Zip grips are plastic loops that can be attached to a zipper. Put them on your coat, bag, hoodie, cardigan or boots to make doing up zips so much easier! They are machine washable so once they are on they can stay on. You might need a friend or carer to help you put the Zip Grips on – they just clip together but it's a little bit fiddly for those with hand function problems. Once they are on they are so light you can forget they are there – until you need to do the zip up!
Prices: £9.95/ €10.95/ $9.95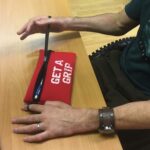 This storage pouch is specifically designed for those with hand function problems. At each end of the zip is a finger ring, and attached to the zipper is large loop. This means that opening and closing is easily done – no more using your teeth! We have included the storage pouch in this section as it is useful for storing any small items, such as pens and pencils, make-up or personal hygiene items. Available in a range of colours to suit you!
Price: £6.95/ €9.95/ $9.95