General Purpose Mini aid
$69.95
Este artículo se vende como ayuda de agarre individual (izquierda o derecha).
Buy a Mini aid and Active Hands will make a donation to the Back-Up Trust (see below)
Perfect for little hands, Active Hands Mini aids are a colourful adaptation of our General Purpose aid for under fives. Many medical conditions can affect children's grip or hand function, from Cerebral Palsy to Guillain-Barré syndrome, Muscular Dystrophy to Spina Bifida, but with our Mini aids none of these need be a bar to having fun!
For many young children, Active Hands Mini aids are an essential extra for an adaptive tricycle, helping them hold onto the handlebars tightly and securely, but they might find them equally useful for a variety of other play activities.
Well they work as well as I could have hoped…His movement is much more controlled, he is stronger at pedaling (which is great exercise for him).  The teachers in his school, his parents, and of course myself could not be happier.  Thank you!!
Bob Majkrzak
Available in pink or blue, Mini aids fasten on the back of the wrist, making the job of fastening much easier for parents and carers. Download our instruction leaflet to see how to put the aids on.
For older children, see our General Purpose aids, available in three sizes including 'Small', which usually comfortably fits children aged five to ten. See our size guide (in tab above) to find out which size is best for you.
Active Hands aids are both kind to the skin and made to last. Built from tough webbing and comfortable but durable neoprene (wet suit material) they're designed to withstand regular use, even for strenuous activities. All our aids are machine washable!
For each mini aid purchased Active Hands donates £2 to back-up kids and you will receive an orange 'Back-up' bug with your order. Back-up is a UK charity that supports those with spinal cord injuries. Click here for more information about the charity.
Guía de tamaños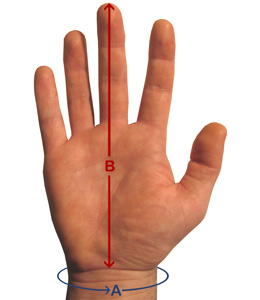 A = circunferencia de la parte más estrecha de la muñeca
B = longitud de la línea de pliegue (donde la mano se une a la muñeca) a la punta del dedo corazón
A: Muñeca
Mini:

Pequeño

:

Estándar

:

Grande

:
120mm – 140mm
135mm – 150mm
145mm – 185mm
180mm – 220mm
4.7″-5.5″
5.3″-5.9″
5.7″-7.2″
7.1″-8.7″
B: Muñeca al dedo corazón
Mini:

Pequeño

:

Estándar

:

Grande

:
120mm – 140mm
135mm – 175mm
175mm – 210mm
195mm – 280mm
4.7″-5.5″
5.3″-6.9″
6.8″-8.3″
7.7″-11.0″
(n.b. Las medidas son aproximadas)
Guía aproximada de tamaños por edades:
Mini:

Pequeño

:

Estándar

:
Grande

:

Niños hasta la edad de 5 años
Niños mayores de 5 años y adultos de talla pequeña
Adultos
Aquellos con manos más grandes
Si ninguna de nuestras tallas se adapta a sus requisitos puede que podamos fabricarle unaa ayuda a medida  que satisfaga sus necesidades.
¿La mejor ayuda de agarre para mí?
Active Hands ya vende una amplia gama de ayudas de agarre para una amplia variedad de actividades. Para ayudarle a decidir qué ayuda de agarre es la correcta para usted, lea por favor la guía abajo.
A simple vista…
 

¿Cómo le afecta su discapacidad?

¿Qué quiere agarrar?

¿Qué ayuda es la correcta para usted?

Función de la mano reducida

/

Fuerza del dedo pobre

Temblores o movimiento involuntario

(Esto puede incluir a las personas con lesión medular, EM, parálisis cerebral, síndrome de Guillan-Barré, distrofia muscular, espina bífida, sobrevivientes del derrame cerebral y otras discapacidades parecidas)


Equipo del Gimnasio

General Purpose gripping aids
D-ring gripping aid
Looped exercise aid
Hook aids
Gym pack/Gym pack deluxe

Herramientas de bricolaje

General Purpose gripping aid

Instrumentos de cocina

General Purpose gripping aid

Equipo de deporte;  remo, piragüismo, etc.

General Purpose gripping aid
Looped Exercise aid
Hook aids

Herramientas de jardinería

General Purpose gripping aid

Equipo de deportes de invierno como esquí adaptivo

Winter Sports aid

Objeto de diámetro pequeño: bolígrafo, maquillaje, cepillo de dientes

Small Item gripping aid

Triciclo adaptivo/andador para niños

General Purpose Mini aid (for children under 5) or General Purpose gripping aid

Dedos faltantes

Partes faltantes de la mano

Esto puede incluir a personas con dismelia (condiciones desde nacimiento), o amputación, enfermedad o lesión más adelante en vida.


Equipo del Gimnasio

Limb Difference gripping aid
D-ring gripping aid
Looped exercise aid

Herramientas de bricolaje

Limb Difference gripping aid

Instrumentos de cocina

Limb Difference gripping aid

Equipo de deporte;  remo, piragüismo, etc.

Limb Difference gripping aid

Herramientas de jardinería

Limb Difference gripping aid