Die Haken-Greifhilfen sind dafür konzipiert, dass Sie Trainingsgeräte greifen und wieder loslassen können. Sie sind insbesondere geeignet für Klimmzugstangen, Geräte mit Lenkergriffen sowie für einige Lenkerarten an Fahrrädern und auch für Handfahrräder.  Sie sind perfekt für Situationen, in denen unsere Greifhilfe mit Halteschlaufen nicht verwendet werden kann, z.B. bei Stangen, die an beiden Enden geschlossen sind.
They are produced with a cleverly shaped strong stainless steel double hook, which gives stability when under tension and a pulling force that feels great and mimics a "real grip" feel when in use. The metal hooks have a thin v-shaped section as part of their design with an elastic loop attached. This innovative elastic loop is placed around a finger and prevents the hook from flopping down under its own weight when grabbing a bar overhead or when your arms are forward. This makes the Hook aid more versatile than existing hook devices, which only perform well when lifting upwards from the ground.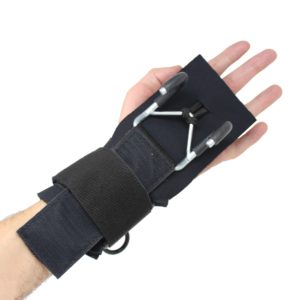 The Hook aid comes with 4 silicon tubes for optional use. The Hook aid can be used without these and this may be the preferred way when gripping some items such as rubberised, foam covered or padded bars. However, if preferred, these silicon tubes can be added to both of the 2 pronged hooks (4 in total). The tubes will give a level of padding, increase grip (preventing metal to metal slipping on some gripped items), and reduce rotation of the gripped object. Please remember they will also slightly reduce the internal diameter of the hook and once added they may not be easily removed. However, we have found in most situations they improve the performance of the hooks. The tubing can be added by applying a drop of hand soap down the tube and twisting the tubes as you push them on (you may require assistance with this).
After you have used the Hook aids a few times there are various options to personalise/customise them for your own specific hand size and usage. If it is interfering with the elastic loop, the neoprene material that fits in the palm of the hand can be trimmed to your specific requirements. The neoprene can be cut to size using scissors or a sharp knife (you may wish to get assistance with this). The other option is to cut a small slit in the neoprene and pass the elastic loop through this, as shown in the diagram. We recommend using the Hook aids a number of times before altering them in any way as once this is done the alterations will be permanent.
I recently bought the new hook style grips, and love that they allow me to do a few different things independently. I am able to use more of my gym's weight machines, especially the pull-down type, without having assistance to adjust my gripping aids. I'm still playing around with what works best but it's great to have more fitness options available.
Cyndi Michener
Further instructions can be found here. Please remove the hooks before washing.