General Purpose Mini aid
$69.95
This item is sold as a single gripping aid (either left or right).
Buy a Mini aid and Active Hands will make a donation to the Back-Up Trust (see below)
Perfect for little hands, Active Hands Mini aids are a colourful adaptation of our General Purpose aid for under fives. Many medical conditions can affect children's grip or hand function, from Cerebral Palsy to Guillain-Barré syndrome, Muscular Dystrophy to Spina Bifida, but with our Mini aids none of these need be a bar to having fun!
For many young children, Active Hands Mini aids are an essential extra for an adaptive tricycle, helping them hold onto the handlebars tightly and securely, but they might find them equally useful for a variety of other play activities.
Well they work as well as I could have hoped…His movement is much more controlled, he is stronger at pedaling (which is great exercise for him).  The teachers in his school, his parents, and of course myself could not be happier.  Thank you!!
Bob Majkrzak
Available in pink or blue, Mini aids fasten on the back of the wrist, making the job of fastening much easier for parents and carers. Download our instruction leaflet to see how to put the aids on.
For older children, see our General Purpose aids, available in three sizes including 'Small', which usually comfortably fits children aged five to ten. See our size guide (in tab above) to find out which size is best for you.
Active Hands aids are both kind to the skin and made to last. Built from tough webbing and comfortable but durable neoprene (wet suit material) they're designed to withstand regular use, even for strenuous activities. All our aids are machine washable!
For each mini aid purchased Active Hands donates £2 to back-up kids and you will receive an orange 'Back-up' bug with your order. Back-up is a UK charity that supports those with spinal cord injuries. Click here for more information about the charity.
Grӧβenratgeber
Bitte benutzen Sie die unten angegebenen Grӧβentabellen um zu bestimmen, welche Grӧβe für Ihre Hand und Ihren Handgelenksumfang geeignet ist.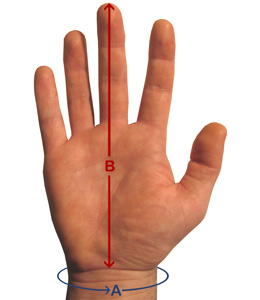 A = Handgelenksumfang
B = Länge von Ihrem Handgelenk (Handgelenksfalte am Űbergang zur Hand) bis zur Spitze ihres Mittelfingers.
A: Handgelenk
| | | | |
| --- | --- | --- | --- |
| Mini: | Small: | Standard: | Large: |
| 120mm – 140mm | 135mm – 150mm | 145mm – 185mm | 180mm – 220mm |
| 4.7″-5.5″ | 5.3″-5.9″ | 5.7″-7.2″ | 7.1″-8.7″ |
B: Handgelenk bis Mittelfinger
| | | | |
| --- | --- | --- | --- |
| Mini: | Small: | Standard: | Large: |
| 120mm – 140mm | 135mm – 175mm | 175mm – 210mm | 195mm – 280mm |
| 4.7″-5.5″ | 5.3″-6.9″ | 6.8″-8.3″ | 7.7″-11.0″ |
(n.b. Messungen sind ungefähre Werte)
Ungefähre Grӧβenempfehlung nach Alter:
| | | | |
| --- | --- | --- | --- |
| Mini: | Small: | Standard: | Large: |
| Kinder bis zu 5 Jahren | Kinder über 5 Jahre und zierliche Erwachsene | Erwachsene | Erwachsene mit extra groβen Händen |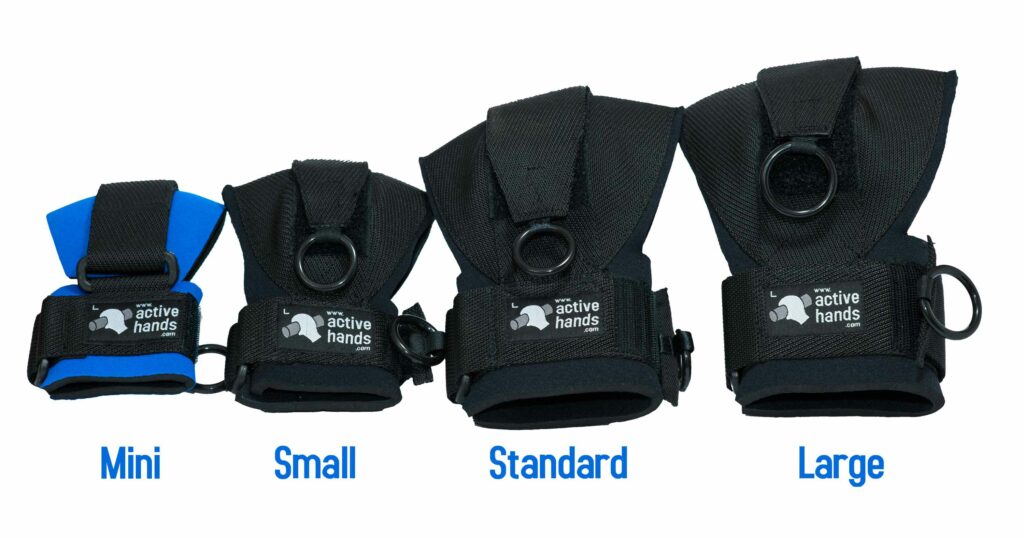 Wenn Sie spezielle Anforderungen haben, die auβerhalb unserer Größentabellen liegen, so können wir mӧglicherweise eine maßgeschneiderte Hilfe für Ihre Bedürfnisse zu produzieren. Bitte maileninfo@activehands.com
Welche Greifhilfe ist die Richtige für mich?
Active Hands verkauft eine Vielzahl von Greifhilfen für die unterschiedlichsten Aktivitäten. Um zu entscheiden, welche Greifhilfe für Sie die Richtige ist, lesen Sie bitte die nachstehende Zusammenfassung.
Auf einen Blick…
Inwiefern beeinträchtig Sie Ihre Behinderung?

Was möchten Sie greifen?

Welche Greifhilfe passt zu Ihnen?

Reduzierte Handfunktion / Wenig Kraft in den Fingern

Zittern oder unwillkürliche Bewegungen

(Dies umfasst Personen mit
Rückenmarksverletzung, MS, Zerebralparese,
Guillan-Barré-Syndrom, Muskeldystrophie,
Spina Bifida, Schlaganfall-Patienten und andere
ähnliche Behinderungen.)

Fitnessgeräte

General Purpose gripping aids
D-ring gripping aid
Looped exercise aid
Hook aids
Gym pack/Gym pack deluxe

Werkzeug aller Art

General Purpose gripping aid

Küchenutensilien

General Purpose gripping aid

Sportausrüstung; Rudern, Kajakfahren usw

General Purpose gripping aid
Looped Exercise aid
Hook aids

Gartenwerkzeuge

General Purpose gripping aid

Wintersportausrüstung wie adaptives Skifahren

Winter Sports aid
Kleingegenstände mit geringem Durchmesser: Stifte, Make-up Utensilien, Zahnbürsten
Small Item gripping aid
Adaptives Dreirad / Kinderlaufgestell
General Purpose Mini aid (for children under 5) or General Purpose gripping aid

Fehlende Finger / Fehlende Teile der Hände

Dies betrifft Personen mit Dysmelia (von Geburt an) oder nach Amputation oder Krankheit oder Verletzungen im späteren Leben.

Fitnessgeräte

Limb Difference gripping aid
D-ring gripping aid
Looped exercise aid

Werkzeug aller Art

Limb Difference gripping aid

Küchenutensilien

Limb Difference gripping aid

Sportausrüstung; Rudern, Kajakfahren usw

Limb Difference gripping aid

Gartenwerkzeuge

Limb Difference gripping aid