D-Ring aids
$69.95
D-Rings are sold as a pair.
Durable and versatile
D-Ring Greifhilfen sind ideal für den Einsatz im Fitnessstudio. Die Greifhilfen können direkt am Karabiner von Fitnessgeräten wie Kabel- oder Flaschenzugmaschinen befestigt werden. Dies bietet den Vorteil eines größeren Bewegungsspielraumes und ermöglicht das Ziehen von Gewicht direkt vom Handgelenk aus.
Dieser Typ Greifhilfe ist sowohl für Menschen mit schwacher Handfunktion als auch für Menschen mit Gliedmaßenunterschied von Vorteil.
How they work
The D-Ring aids come as a pair – left and right hands. The wrist section is tightened using a strip of velcro with a ring on the end. Attached to this wrist section is a D-Ring which allows for attachment directly to the karibiner on gym equipment. You can download our instructions leaflet.
As a person with upper limb disability, including a lack of finger movement, I have found this product to be an essential part of my maintaining fitness at the gym whilst remaining independent. They can easily be hooked onto gym apparatus and then you don't need to worry about struggling to grip whilst pulling in any direction. They're so simple to use and so effective, I don't know where I'd be without them!
Gareth Herridge
Which size should I buy?
Most adults find that our 'Standard' size fits them, however D-Ring aids are also available in 'Large'. See our size guide to find out which size is best for you.
Made of Strong Stuff
Active Hands aids are both kind to the skin and made to last. Built from tough webbing and comfortable but durable neoprene (wet suit material) they're designed to withstand regular use, even for strenuous activities. All aids are machine washable.
Grӧβenratgeber
Looped, D-Ring and Hook aids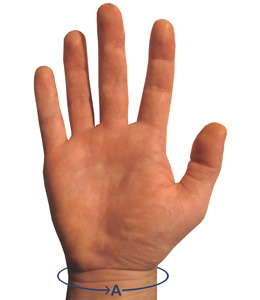 A = Handgelenksumfang
A: Handgelenk
| | |
| --- | --- |
| Standard*: | Large: |
| 135mm – 185mm | 180mm – 220mm |
| 5.3″-7.2″ | 7.1″-8.7″ |
(n.b. Messungen sind ungefähre Werte)
* Die Standardgröße sollte für ein kleines Handgelenk geeignet sein, da diese Hilfsmittel stärker angezogen werden können als unsere allgemeinen Hilfsmittel.
Wenn Sie spezielle Anforderungen haben, die auβerhalb unserer Größentabellen liegen, so können wir mӧglicherweise eine maßgeschneiderte Hilfe für Ihre Bedürfnisse zu produzieren.  info@activehands.com
Welche Greifhilfe ist die Richtige für mich?
Active Hands verkauft eine Vielzahl von Greifhilfen für die unterschiedlichsten Aktivitäten. Um zu entscheiden, welche Greifhilfe für Sie die Richtige ist, lesen Sie bitte die nachstehende Zusammenfassung.
Auf einen Blick…
Inwiefern beeinträchtig Sie Ihre Behinderung?

Was möchten Sie greifen?

Welche Greifhilfe passt zu Ihnen?

Reduzierte Handfunktion / Wenig Kraft in den Fingern

Zittern oder unwillkürliche Bewegungen

(Dies umfasst Personen mit
Rückenmarksverletzung, MS, Zerebralparese,
Guillan-Barré-Syndrom, Muskeldystrophie,
Spina Bifida, Schlaganfall-Patienten und andere
ähnliche Behinderungen.)

Fitnessgeräte

General Purpose gripping aids
D-ring gripping aid
Looped exercise aid
Hook aids
Gym pack/Gym pack deluxe

Werkzeug aller Art

General Purpose gripping aid

Küchenutensilien

General Purpose gripping aid

Sportausrüstung; Rudern, Kajakfahren usw

General Purpose gripping aid
Looped Exercise aid
Hook aids

Gartenwerkzeuge

General Purpose gripping aid

Wintersportausrüstung wie adaptives Skifahren

Winter Sports aid
Kleingegenstände mit geringem Durchmesser: Stifte, Make-up Utensilien, Zahnbürsten
Small Item gripping aid
Adaptives Dreirad / Kinderlaufgestell
General Purpose Mini aid (for children under 5) or General Purpose gripping aid

Fehlende Finger / Fehlende Teile der Hände

Dies betrifft Personen mit Dysmelia (von Geburt an) oder nach Amputation oder Krankheit oder Verletzungen im späteren Leben.

Fitnessgeräte

Limb Difference gripping aid
D-ring gripping aid
Looped exercise aid

Werkzeug aller Art

Limb Difference gripping aid

Küchenutensilien

Limb Difference gripping aid

Sportausrüstung; Rudern, Kajakfahren usw

Limb Difference gripping aid

Gartenwerkzeuge

Limb Difference gripping aid