Active Hands Gym Pack Deluxe
$329.95
A great value bundle, our new Gym Pack Deluxe packages together five pairs of our most popular aids to unlock a whole range of gym equipment for you, plus a stylish gym bag to store them all in. Saving you over £50 (US$70, €90) compared to buying the aids individually, the pack includes:
A Pair of General Purpose gripping aids (ideal for holding free weights, using a rowing machine)
A Pair of Looped exercise aids (designed for solo use, to easily slide on and off your exercise machine)
A Pair of D-Ring aids (designed for use on cable and pulley machines)
A Pair of Heavy Use Gripping Wraps (providing comfort and grip when lifting free weights)
A Pair of Thumb Protectors (for comfort when lifting weights)
Stylish drawstring Gym Bag with "Get a Grip" slogan*.
Our gym packs are available in small, standard or large gripping aids sizes.
My disability didn't make things easy, getting a grip on the erg handle, the left oar and the weights was difficult but my coach gave me a bag of Active Hands gripping aids and it made physical activity possible again.
Véronique Boucher
Active Hands aids are both kind to the skin and made to last. Built from tough webbing and comfortable but durable neoprene (wet suit material) they're designed to withstand regular use, even from strenuous activities. All aids are machine washable.
I placed an order for the gym pack deluxe which I have received and used and I must say it works incredible.
Barton Harder
Grӧβenratgeber
Bitte benutzen Sie die unten angegebenen Grӧβentabellen um zu bestimmen, welche Grӧβe für Ihre Hand und Ihren Handgelenksumfang geeignet ist.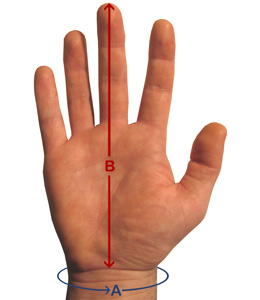 A = Handgelenksumfang
B = Länge von Ihrem Handgelenk (Handgelenksfalte am Űbergang zur Hand) bis zur Spitze ihres Mittelfingers.
A: Handgelenk
| | | | |
| --- | --- | --- | --- |
| Mini: | Small: | Standard: | Large: |
| 120mm – 140mm | 135mm – 150mm | 145mm – 185mm | 180mm – 220mm |
| 4.7″-5.5″ | 5.3″-5.9″ | 5.7″-7.2″ | 7.1″-8.7″ |
B: Handgelenk bis Mittelfinger
| | | | |
| --- | --- | --- | --- |
| Mini: | Small: | Standard: | Large: |
| 120mm – 140mm | 135mm – 175mm | 175mm – 210mm | 195mm – 280mm |
| 4.7″-5.5″ | 5.3″-6.9″ | 6.8″-8.3″ | 7.7″-11.0″ |
(n.b. Messungen sind ungefähre Werte)
Ungefähre Grӧβenempfehlung nach Alter:
| | | | |
| --- | --- | --- | --- |
| Mini: | Small: | Standard: | Large: |
| Kinder bis zu 5 Jahren | Kinder über 5 Jahre und zierliche Erwachsene | Erwachsene | Erwachsene mit extra groβen Händen |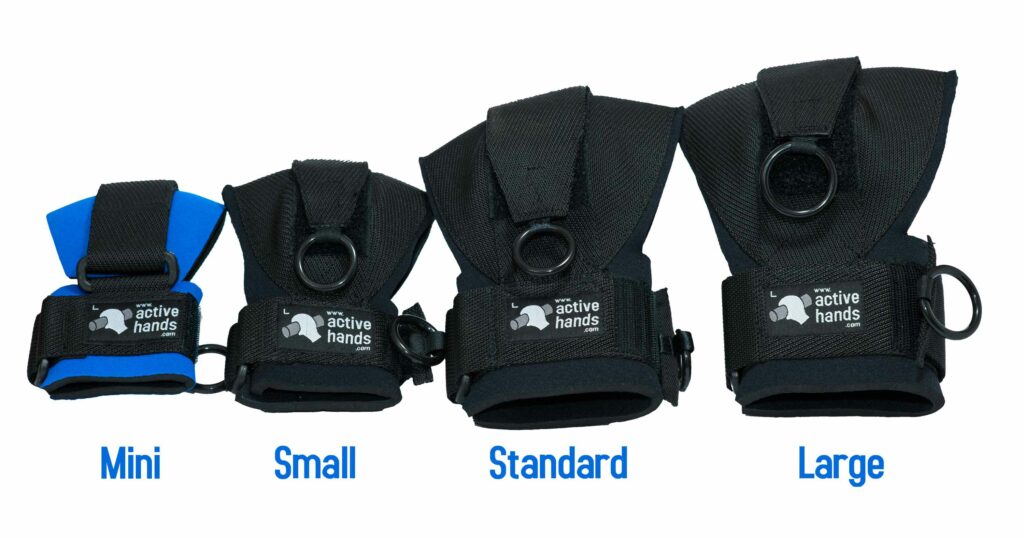 Wenn Sie spezielle Anforderungen haben, die auβerhalb unserer Größentabellen liegen, so können wir mӧglicherweise eine maßgeschneiderte Hilfe für Ihre Bedürfnisse zu produzieren. Bitte maileninfo@activehands.com