October is breast cancer awareness month and The Active Hands Company Ltd are joining in the fundraising for Breast Cancer Care with the launch of our hot pink aids. During the next 6 months for each purchase of a pink aid the company will donate £2 to Breast Cancer Care. With your pink aid purchase you will also receive a free pink ribbon pin badge.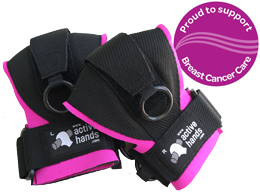 Pink General Purpose Gripping Aids are available in all 4 sizes: mini, small, standard and large, available from our online shop.
But what is the link between Active Hands and a breast cancer charity? It may seem an odd combination. Company director Mel Burley explains:
"My brother, Rob Smith of Active Hands, suffered a high-level spinal cord injury in 1996, which left him with partial paralysis in all four limbs. Rob was frustrated by the lack of suitable equipment available to help him lead an independent life so he designed a range of gripping aids. Our Mum, Marion, made the gripping aids on her sewing machine and the results were remarkable. 

"From Household DIY to a skiing trip in the Alps, Rob's aids allowed him a level of independence beyond his expectations. As a result Mum began to make the aids available to others with poor hand function. Following popular demand for the aids, she set up Active Hands as a Limited Company. 

"Sadly, she passed away in 2008 after a long battle with breast cancer. Her legacy lives on in the Active Hands Company, now run by Rob and myself and has grown to become one of the world's leading companies in the manufacture and supply of gripping aids."
Marion would be proud of Active Hands' partnership with Breast Cancer Care through the sale of our new pink gripping aids. We want to help Breast Cancer Care to continue to do the great work of supporting patients and their families throughout difficult times.
Charlotte Young, Corporate Fundraising Manager for Breast Cancer Care, said:
"Every year in the UK, 55,000 are diagnosed with breast cancer. We want to be there for each and every one of them. But we can't do that without the support of companies like Active Hands. So a big thank you and we hope the new pink gripping aids are a big success!"
Breast Cancer Care is a registered charity in England and Wales 1017658, and Scotland SCO38104.
NEWS FLASH: Active Hands are continuing with this promotion. With each order that contains a Pink gripping aid you will receive a pink and sparkly BCC ribbon pin badge and Active Hands will make a donation on your behalf to the charity. Sept 2014