Archives:
September 2014
---
This month we have a guest news blog from designed2enable. They have been testing one of their innovative products with our gripping aids.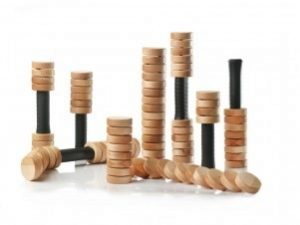 Active Hands Gripping Aids are the perfect solution if you have limited grip or poor hand function, the gripping aids work beautifully with the Inimove rehabilitation device. Active Hands enable you to hold the device; the glove straps around your hand in the gripped position giving you the ability to grip the device securely.
Inimove, is a rehabilitation device for stroke, brain injury and trauma and for ADHD. We recently trialled Inimove with the Queen Elizabeth Foundation, Brain Injury Centre, Banstead, Surrey. Carol Carr, Head of Physiotherapy at QEF, kindly wrote a testimonial for Inimove.
Carol wrote a glowing testimonial for Inimove but felt that the grip for Inimove Complex and Complex Duo might not suit everyone. She suggested that a molded handle or a strap might help those with limited hand dexterity and we have found that Active Hands Gripping Aids are an ideal solution. We have tested the Active Hands gloves with Inimove, which enable the user to strap the hand to the device, giving a stable hold and therefore allowing the user to gain the full benefit from the rehabilitation device.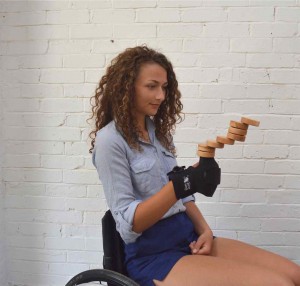 Active hands, durable and versatile general purpose gripping aids, are also ideal for a wide range of tasks: at home, in the gym or out and about. Whether you've had a stroke, suffered a spinal injury or have any condition that reduces your hand function, Active Hands gripping aids could unlock any number of activities for you:
Working out in the gym (e.g. holding free weights, using a rowing machine)
Playing on the Nintendo Wii
DIY at home (using a saw or hammer)
Holding a pool or snooker cue
Rowing or Kayaking
Gardening
Holding a glass or bottle
Written by Katherine Pyne from designed2enable
To purchase an Active Hands gripping aid please visit our shop.
Further information on Inimove training devices are available on the designed2enable website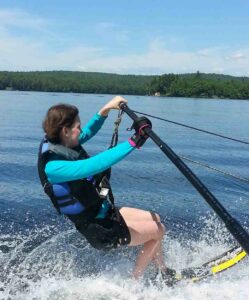 Rebecca Hopkins has always loved sports and outdoor activities. She was a keen soccer player as a child. She ran her first road race aged 12 and came first in her age group just three weeks after brain surgery to remove a tumour. A keen cross country runner she placed in the top 20 in the National Junior Olympic competition and earned all state honours three times in her high school.
Rebecca also began riding her bike in the Pan Mass Challenge to raise money for the "Jimmy Fund": a national organization that raises money for kids fighting cancer. Over a two-year period she raised over $24,000 for the cure.
But Rebecca's greatest love is water skiing. She first learned to ski around age six and over the years graduated from two skis to one and finally bare foot.
Rebecca has always enjoyed working with children and graduated from college with a degree in early childhood education. In 2012 shortly after spending a year teaching in Japan, Rebecca returned home and began experiencing severe headaches. The MRI showed the brain tumour had returned and she would require a second brain surgery and radiation. The surgery and radiation left her partially blind in her right eye and partially paralyzed in her right leg and arm. In short Rebecca would no longer be able to water ski, bike or do many of the other things she loved to do.
Rebecca joined the YMCA "Live Strong" program that helps to rehabilitate people recovering from cancer. The target was to work on strengthening her right-hand side. As Rebecca did not have enough gripping strength her parents had to hold her hand onto the different exercise equipment.
After spending a while looking Rebecca's mother came across Active Hands while searching the web. In an instant she realized that it was just what they were looking for to give Rebecca back her independence, help her in the gym and get her back to her love of water-skiing.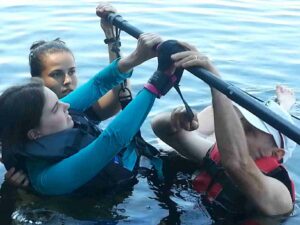 Rebecca water-skis with a specially adapted system. She is attached to the training pole by her Active Hand gripping aid, a mountain climbing harness attached via a heavy duty karabiner and a cord: providing her with a three-point connection. This protects her from an uncontrolled fall yet still gives her the responsibility for controlling the ski.
Mark, Rebecca's father says:
"Once again I can't tell you how much Rebecca looks forward to skiing, it makes her feel normal and the joy it brings her is priceless, without the Active Hand she would just be another kid sitting on the side-lines with only memories about what life was like before cancer."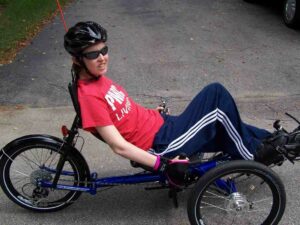 Rebecca also uses her Active Hands gripping aids with her specially designed bike. We hope that she can use it to try other activities that our customers have told us about such as climbing or off-road riding. Why not take a look at our products page for more ideas?