Archives:
January 2014
---
When Active Hands decided to make their general purpose gripping aids in hot pink Josie Pearson sprang to mind as the perfect person to test them out. A gold medal winning Paralympian with a spinal injury, Josie has shown great determination to reach success in a variety of sporting areas!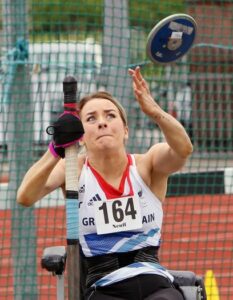 Josie was involved in a head-on car collision in 2003. The accident resulted in her breaking two bones in her neck and suffering permanent spinal damage. Although her legs were paralysed she could still use her arms.
Before her accident Josie was a keen horse rider but it was not possible for her to continue after her spinal injury. Not one to give up, while at university she joined the wheelchair rugby team and went on to compete in the 2008 Paralympics. She was the only girl in the team!
Josie then spent a while competing on the track in the 100m and 800m sprints. She now focuses on throwing events where her Active Hands gripping aids are used to hold on to her support. She qualified for the discus and club events in the 2012 Paralympics and won gold in the F51 discus with a world record-breaking throw.
Josie has continued with her success by setting a new world record and securing another gold medal in discus and a bronze in the club throw in the 2013 IPC Athlectics World Championships.
Josie's success has come through the help of her Active Hands gripping aids, which she uses both to train and compete. She tells us how vital they are to her:
"The new hot pink Active Hands aids are fantastic and I love the colour! I've been using Active Hands for many years now and without a doubt if I didn't have them I wouldn't be the successful athlete I am today. I use them for so many activities, from aiding in my training, competing, right through to my day-to-day tasks such as housework. They're an essential part of my life and I wouldn't be without them."
Josie uses Active Hands gripping aids to help her win gold medals. You might not reach the heady heights of Paralympic success but you won't know unless you try!
Visit our online shop to find the hot pink general purpose gripping aids.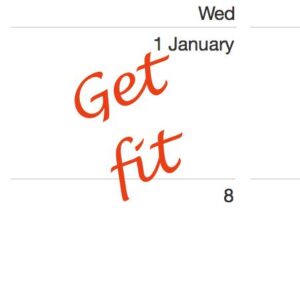 Every New Year many of us make resolutions to get fit. Whether it's because we ate too much over Christmas or whether we feel it's time to improve our health we feel the need to get out and do some exercise.
For some people that is easier than others. If you can't get a grip on equipment then getting into the gym or out on a bike is not so easy and can seem like an insurmountable challenge.
If you have weak grip or poor control of your hands then Active Hands can help you. Our range of gripping aids allow you to get a firm grip on gym equipment such as free weights, lat pull down machines, seated rowing machines or concept 2 rowers (for those with leg function), chin ups, cable and pulley multi-use machines.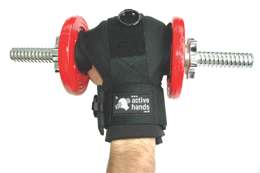 If the gym is not your thing then the aids can be used with adapted trikes or bikes or to hold an oar for rowing. And if you're fortunate enough to be going skiing our outdoor aids are perfect for holding skiing outriggers as they fit over gloves.
Active Hands can make your New Years resolution possible, whether you choose the gym or the great outdoors. The willpower is up to you! *
Coming soon to encourage you in your exercise: some inspirational stories of people who have used their willpower to achieve sporting success. Rob will also be showing you how you can use your aids in some new exercise videos.
* And if the willpower fails then there any many uses for the general purpose aids around the house! You can use them to hold a bottle or glass; in the garden or kitchen; to do the DIY (which is also on your New Year's 'to-do' list) or to hold a wii controller. They certainly won't be sat on the side collecting dust!